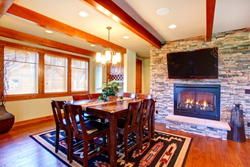 Homes relisted with photos taken with excellent lighting tend to move faster on the market.
Chicago, IL (PRWEB) April 25, 2015
When a house sits on the market for too long, The Federal Savings Bank knows it's at risk for going stale. As house hunters see that a home as been unsold for months, they may question its condition or other factors that could endanger a sale. After a certain period of time, buyers and real estate agents might have already moved on to other homes. However, while homeowners may discover their home listings have not generated as much interest as they thought, they also have the option of relisting their house.
While homeowners were probably discouraged from not selling their home initially, The Federal Savings Bank thinks relisting a house could breathe new life into a home listing, so sellers can sell their property more quickly and at the price they want.
Here are five tips to consider when relisting a home:
1. Set the appropriate initial home price
Although homeowners may have thought their first price on the property was fair, buyers may have believed the price was too high for the area. This could have caused sellers to continually lower the price throughout the time the home was listed on the market. However, the frequent drops in price might have also deterred buyers if they wondered what made sellers decrease the price in the first place, such as a significant issue with the structure of the home. Homeowners could research what other similar homes in the same location are selling for to appropriately price their home for the relisting.
2. Consider seasonal demand
The season when homeowners first listed their houses may have affected demand for their homes, which could in turn influence demand. For example, if they listed in the winter when there is a lower inventory of homes for sale, they may have seen less demand. However, if they list again in the summer, they may see greater demand, but more competition from other sellers.
3. Take quality photos
Another reason why a home may have stayed on the market is the photos did not effectively show the property. When homes are first showed online using bad lighting or strange angles, buyers may not be able to picture themselves in the home. Real estate agents note that homes relisted with photos taken with excellent lighting tend to move faster on the market. Additionally, when relisting a home, use updated photos that match the current home buying season, rather than pictures taken from the original listing.
4. Get feedback from real estate agents
Sellers should pay attention to the comments real estate agents may have about their original listing and their second one. Listening to potential reasons why a listing may have take longer than expected to sell could prove valuable for home sellers who didn't have much luck the first time.
5. Stage the property properly
Another issue related to presenting the home is properly staging the home. Consider painting rooms neutral colors as well as updating furniture to fit with the style and taste of potential buyers.
Contact the Federal Savings Bank, a veteran owned bank, to learn more about mortgages.