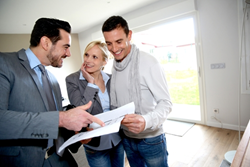 Before going into an open house, home buyers should create a list of what they want in a home
Chicago, IL (PRWEB) April 26, 2015
The Federal Savings Bank, a Midwest based lender, knows that an open house is an essential part of a first-time home buyer's journey to becoming a homeowner. Not only do open houses offer a close up look at the home they're interested in, potential home buyers can also have a chance to interact with real estate agents and other people who could help them in their home buying decision.
According to the National Association of Realtors, 45 percent of home buyers used open houses in their home search, a higher percentage compared to house hunters who used a mobile search engine or newspaper. With the popularity of open houses, first-time home buyers should make sure to optimize their experience when visiting homes.
The Federal Savings Bank has compiled five tips for first-time home buyers to make the most of an open house:
1. Look for open houses listed online
While house hunters could drive around their targeted neighborhood to seek out open houses, they could expand their search early on by finding public showings online. Use both online search engines and mobile apps to come up with a list of houses so home buyers can drop by properties the same day.
2. Ask basic questions
It's not enough to simply go through a house. Open houses usually have a real estate agent or even the homeowner around for house hunters to ask questions. Homeowners should ask basic questions about the condition of the home, any current offers and surrounding amenities. These questions include what is the school district that the home is in and whether there have been any offers on the home so far.
3. Make sure the real estate agent is present for on a follow-up showing
First-time home buyers may not catch everything there is to learn about the home right away during an open house. After visiting a home they might like, house hunters should bring their real estate agent into the picture in the follow-up showing. A follow-up showing with an agent's perspective could show homeowners any missed problems with the home, such as issues with the basement or foundation.
4. Take pictures and notes
House hunting, especially if home buyers are evaluating several homes in the same day, can go quickly and it's hard to remember every detail for each property. Taking pictures of the homes they visit could allow home buyers to evaluate properties more thoroughly and shift through their impressions afterward.
5. Remember the list of must-haves for the home
Before going into an open house, home buyers should create a list of what they want in a home, including the number of bedrooms and bathrooms and the size of the square footage. Additionally, home buyers should also determine whether there are certain amenities, such as proximity to parks and public transportation, near the home that they will also demand.
First-time home buyers looking for houses can contact the Federal Savings Bank, a veteran owned bank, to learn more about mortgages.