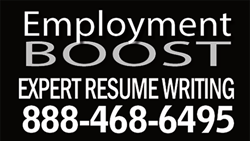 Chicago, IL (PRWEB) April 26, 2015
"This time of the year is always a good time for us to put our Recent Graduate Resume Writing Service on sale with all the new college graduates entering the market. Our normal price is $150 and we have slashed that down to $99 until the end of May 2015," said Kristin Scarth, Career Services Manager at Employment BOOST.
With more than 1,800,000 college graduates every year the market is extremely competitive in all sectors.
"Many college graduates receive poor or outdated advice from their college career services departments. I even recall myself when I was coming out of law school that the career services department wanted me to use a resume style and wording that seemed extremely outdated. To make it simple, if you still have "Objective" at the top of your resume, you really need to give us a call," said Connie Kernen, Vice President of Career Services and Management.
About Employment BOOST:
Employment BOOST is a Troy, Michigan and Chicago, Illinois based company that provides professional resume writing services and critiquing, executive resume services, cover letter development, career planning, social media profile creation, and interview coaching to job seekers across the nation. For more than a decade, Employment BOOST has consistently been helping people achieve career satisfaction. Employment BOOST uses talented industry experts to tailor resumes to the key content that hiring managers seek. For more information on Employment Boost, please call 888-468-6495 or visit http://employmentboost.com.