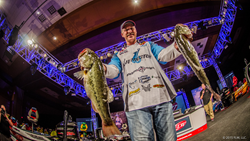 ROGERS, Ark. (PRWEB) April 25, 2015
Livingston Lures pro Andy Morgan of Dayton, Tennessee, caught a five-bass limit weighing 10 pounds, 9 ounces Saturday to retain the lead on day three of the Walmart FLW Tour at Beaver Lake presented by Rayovac. Morgan's three-day total of 15 bass weighing 39 pounds, 2 ounces gives him a 1-pound, 9-ounce lead as competitors enter the fourth and final day of competition in the event that featured 154 of the best bass-fishing anglers in the world, competing for a top cash award of up to $125,000.
"Today was extraordinarily tough," said Morgan, whose numerous career accolades include only one previous win on the FLW Tour, which came on Beaver Lake in 2007. "I caught my first fish around 9:30 a.m., then my second around noon. I caught my third keeper just five minutes later, and then in the last 30 minutes of the day, I caught my last two. Just like yesterday, I only caught five fish all day long and it was a grind."
Morgan said that he is all out of the bed fish after catching them on the first two days of competition and that Saturday was all about junk fishing. Sunday will be more of the same.
"I've used a hodge podge of baits all week," Morgan said. "I've caught them on a Zoom Finesse Worm, on a spinnerbait, on a Zoom Z-Craw and on a War Eagle jig. I caught a couple of fish this week on a buzzbait, too, but nothing that I weighed in. The key for me has just been to cover enough water and make enough casts that by the end of the day, I've gotten five.
"Tomorrow, anybody in this top-10 can legitimately win this tournament. You're going to have to have one big bite to win this thing – if somebody can catch a four- or five-pounder, that's going to be golden.
"I like having the lead, because that means that someone can beat me by just a little bit tomorrow and I can still win," Morgan went on to say. "It's been a long time since I won one of these (FLW Tour events). I've had a lot of second place finishes, but I really, really want to get a W."
The top 10 pros advancing to the final day of competition Sunday on Beaver Lake are:
1st: Livingston Lures pro Andy Morgan, Dayton, Tenn., 15 bass, 39-2
2nd: Quaker State pro Matt Arey, Shelby, N.C., 15 bass, 37-9
3rd Livingston Lures pro Stetson Blaylock, Benton, Ark., 15 bass, 37-3
4th: John Cox, Debary, Fla., 15 bass, 37-0
5th: Rayovac pro Cody Meyer, Auburn, Calif., 15 bass, 36-7
6th: Vic Vatalaro, Kent, Ohio, 15 bass, 35-6
7th: Bryan Thrift, Shelby, N.C., 15 bass, 35-1
8th: Tracy Adams, Wilkesboro, N.C., 15 bass, 34-9
9th: Peter Thliveros, Saint Augustine, Fla., 15 bass, 34-8
10th: Mike Surman, Boca Raton, Fla., 15 bass, 34-5
Finishing in 11th through 20th are:
11th: Darrel Robertson, Jay, Okla., 15 bass, 34-4, $12,000
12th: Wesley Strader, Spring City, Tenn., 15 bass, 34-1, $12,000
13th: Brandon Cobb, Greenwood, S.C., 15 bass, 33-10, $12,000
14th: Quaker State pro Scott Canterbury, Springville, Ala., 15 bass, 33-2, $12,000
15th: Larry Nixon, Bee Branch, Ark., 15 bass, 33-1, $12,000
16th: Scott Martin, Clewiston, Fla., 15 bass, 31-15, $12,000
17th: Keystone Light pro Chad Grigsby, Maple Grove, Minn., 14 bass, 31-6, $12,000
18th: Clark Wendlandt, Leander, Texas, 14 bass, 31-5, $12,000
19th: Darrell Davis, Dover, Fla., 13 bass, 30-15, $12,000
20th: Lowrance pro Ishama Monroe, Hughson, Calif., 15 bass, 30-6, $12,000
Final results for the remaining field can be found at FLWFishing.com.
Overall, there were 96 bass weighing 187 pounds, 2 ounces caught by pros Saturday. 17 of 20 pros weighed in five-bass limits.
Luke Dunkin of Lawrenceburg, Tennessee, won the co-angler division and $20,000 Friday with a two-day total of 10 bass weighing 18 pounds, 2 ounces, followed by Todd Lee of Jasper, Alabama, who finished in second place for the second consecutive tournament with 10 bass weighing 17 pounds, 15 ounces, worth $7,500.
In addition to casting for top awards of up to $125,000 cash in the pro division and up to $25,000 cash in the co-angler division, anglers are also competing for valuable points in hopes of qualifying for the 2015 Forrest Wood Cup, the world championship of bass fishing. The 2015 Forrest Wood Cup will be in Hot Springs, Arkansas, Aug. 20-23 on Lake Ouachita and is hosted by Visit Hot Springs. The Forrest Wood Cup Champion could win as much as $500,000 – professional bass-fishing's richest prize.
Anglers will take off for the fourth and final day of competition from Prairie Creek Park Marina located at 9300 N. Park Road in Rogers at 6:30 a.m. Sunday. Sunday's final weigh-in will be held at the John Q. Hammons Center, located at 3303 Pinnacle Hills Parkway in Rogers beginning at 4 p.m.
Fans will also be treated to the FLW Expo on Sunday from noon to 4 p.m. at the John Q. Hammons Center prior to the final weigh-ins. The Expo includes a Ranger boat simulator, the opportunity to interact with professional anglers, enjoy interactive games, activities and giveaways provided by sponsors, and learn more about the sport of fishing and other outdoor activities. All activities are free and open to the public. Also on Sunday, country music artists Backroad Anthem will perform a free live concert on the Walmart weigh-in stage at 3 p.m. Pros Rich Dalbey and Todd Hollowell's "Hooked on Helping" foundation will also be hosting a food drive to benefit the Northwest Arkansas Food Bank. FLW fans who donate five or more cans of food will be entered to win a $50 Walmart gift card.
Coverage of the Beaver Lake tournament will be broadcast in high-definition (HD) on NBC Sports Network (NBCSN) October 12 from 7 p.m.-8 p.m. ET. when Season 20 of "FLW" returns this fall. The Emmy-nominated "FLW" television show airs on NBCSN, the Pursuit Channel and the World Fishing Network and is broadcast to more than 564 million households worldwide, making it the most widely distributed weekly outdoors-sports television show in the world.
For complete details and updated information, visit FLWFishing.com. For regular updates, photos, tournament news and more, follow us on Facebook at Facebook.com/FLWFishing and on Twitter at Twitter.com/FLWFishing.
ABOUT FLW
FLW is the industry's premier tournament-fishing organization, providing anglers of all skill levels the opportunity to compete for millions in prize money nationwide in 2015 over the course of 240 tournaments across five tournament circuits, four of which provide an avenue to the sport's richest payday and most coveted championship trophy – the Forrest Wood Cup. FLW tournament fishing can be seen on the Emmy-nominated "FLW" television show and is broadcast to more than 564 million households worldwide, making it the most widely distributed weekly outdoors-sports television show in the world. For more information about FLW visit FLWFishing.com and look for FLW on Twitter, Facebook, Instagram and YouTube.
# # #