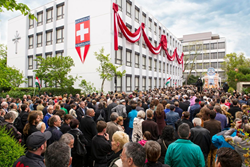 Now, we come to a long-anticipated turning point in European history. A moment when a ribbon falls on a new Ideal Org and so signals a new era of tolerance, brotherhood, compassion and spiritual power.
Los Angeles, CA (PRWEB) April 25, 2015
Switzerland is a nation long renowned for its exquisite craftsmanship of everything from watches to pocketknives and culinary delicacies that remain the envy of the world.
And consistent with that uncompromising emphasis on quality, the first Scientology Ideal Organization (Org/Church) in that European nation's dazzling history opened its doors to a grateful public on Saturday in an historic and dignitary-studded dedication ceremony in the picturesque Swiss city of Basel.
The newest Ideal Church of Scientology resides at the knee of the Rhine River in the tri-national region bordering France and Germany along with Switzerland. For the grand opening celebration on April 25, Scientologists from cantons across the country were joined by those from France, Germany and Italy.
To properly mark the importance of the moment, Mr. David Miscavige, Chairman of the Board Religious Technology Center, summed up the Basel opening's significance in addressing the audience—maintaining that the new facility gives the phrase "Swiss-made" a "whole new definition."
Mr. Miscavige continued, "Now, we come to a long-anticipated turning point in European history. A moment when a ribbon falls on a new Ideal Org and so signals a new era of tolerance, brotherhood, compassion and spiritual power. A breathless moment that will never be forgotten, so long as suns shine and planets swing."
Basel's new Ideal Org stands on the city's Burgfelderstrasse, mere blocks from the Swiss-French Border in the district of Great Basel-West. The 50,000-square-foot facility is quintessentially Swiss-Modern in style. Just minutes from the city center, it will provide Scientology services and a common meeting ground in the tri-country corner.
The opening serves to continue forward the momentum generated by the religion's explosive international growth, with the proliferation of Ideal Churches on every continent leading the immense expansion over the past decade.
Joining the Scientology parishioners and Church officials on Saturday were luminaries representing all levels of the Swiss cultural landscape. They included Robert Mesey, Federal Justice of Switzerland, Ret.; Dr. Johann Bauer, representing the Department of Medicine at Ludwig Maximilian University; Ayhan Seker, Chairman of the Basel Round Table of Religions; and finally, Marco Pulver, Executive Director of Implenia North-West Switzerland.
Mr. Mesey perhaps summed up the spirit of the occasion best when he said, "Your Founder, L. Ron Hubbard, once prophesied that 'On the day when we can fully trust each other, there will be peace on Earth.' Today, for the people of Basel, and as stated in that magnificent booklet by your Founder, the Burgfelderstrasse has become 'The Way to Happiness'."
Placing this new Ideal Org in the context of the city's diverse community was Mr. Seker, who observed, "Basel is a multicultural city. Our many religious communities practice their beliefs freely and cooperate well together. That is why I like to live here, in this center of tolerance. In fact, you cherish the sanctity of religious tolerance and foster it by your example. And in so doing, you help keep alight the flame of religious respect in our city."
The far-reaching humanitarian responsibility marked by the Ideal Org's opening was not lost on Dr. Bauer, who emphasized, "This Ideal Org is a stronghold for all your social programs. Yes, with the opening of this Ideal Org, you bear a responsibility to make it a bastion for good upon the hills of Basel. And I have every faith that you will."
"I admire your programs," added Mr. Pulver in his speech, "whether street cleanups in the name of The Way to Happiness or education outreach to proof up Basel youth against the creeping effects of drugs. Indeed, here is a home for community engagement where we may all work together and so collectively uplift Basel."
___________________
Basel's new Ideal Org provides all visitors with an introduction to Dianetics and Scientology, beginning with the Public Information Center. Its displays, containing more than 500 films, present the beliefs and practices of the Scientology religion and the life and legacy of Founder L. Ron Hubbard.
The Information Center also offers a detailed overview of the many Church-sponsored humanitarian programs. These include a worldwide human rights education initiative; a far-reaching drug education, prevention and rehabilitation program; a global network of literacy and learning centers; and the Scientology Volunteer Ministers program, now representing the world's largest independent relief force.
The Center is open throughout the day and evening for visitors to tour at their leisure and return as often as they wish.
Basel's Ideal Org also features a chapel that provides for Scientology congregational gatherings, including Sunday services, weddings and naming ceremonies as well as a host of community wide events open to members of all denominations. The Church further includes multiple seminar rooms and classrooms, in addition to an entire floor dedicated to Scientology auditing (spiritual counseling).
For more information on the Basel Church opening and/or to view the related slideshow, go to: http://www.scientology.org/david-miscavige/grand-opening-church-of-scientology-basel-switzerland.html