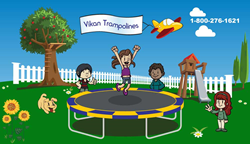 We dare to be different and do what nobody else does.
Vancouver, BC (PRWEB) April 26, 2015
Vikan Trampolines has recently announced that the company now offers an astounding money back guarantee on the complete line of trampolines for sale. This manufacturer of trampolines in Canada aims to produce with the highest performance quality standards and safety measures. As a result, any product that seems to fall short of the high standard of quality control set by Vikan Trampolines, that is, it doesn't give the "best bounce," can be refunded immediately. Customers can receive a 100% refund if the item is returned within one month and those who take up to a year will receive a 75% refund on their trampoline.
"We dare to be different and do what nobody else does. Customer satisfaction is a top priority, so every Vikan trampoline comes with a money back guarantee," states a company representative. "You can receive a 100% refund for up to one month, or a 75% refund for up to 1 year."
Vikan Trampolines stands by its promise of high quality, safety & unequalled performance. For them, the reputation of their product line and the customer's satisfaction and safety are the most important aspects of business. This is the reason why they are willing to give a complete refund, something very few companies can promise.
About the Company
Vikan Trampolines is a trampoline manufacturing and retail company in British Columbia, Canada. In 1981, Ivan MacMillan founded Freedom Sports Limited/Vikan Trampolines with enthusiastic support and encouragement from members of the Shasta Trampoline Team of New Westminster. Over the years, the association with the Shasta team has played an important role in product development, research, performance, quality, safety and education. Since the company's founding, the world has entered a new millennium, and trampoline has become an official Olympic sport. However, the company's vision remains the same: to provide the best value trampoline for the customer and maintain a 100% satisfaction rate. For more information, log on to https://trampolineshop.com/ or call 1-800-276-1621.