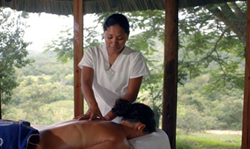 we're hearing more and more that Belize is becoming a mecca for the health-conscious
San Ignacio, Belize (PRWEB) April 28, 2015
They once came primarily for the diving, unspoiled nature and extensive Mayan archaeological sites. But a new generation of travellers to Belize has discovered another attraction this uncrowded Caribbean country offers – healthy vacations with a focus on wellness and wholesome, locally produced food.
And, according to the Lodge at Chaa Creek, both the travelling public and Belize's growing hospitality industry are beginning to take notice.
Bryony Fleming Bradley, Chaa Creek's food and beverage manager, said the new tourism trend is driven by health conscious travellers seeking to combine physical, mental and spiritual wellbeing with a traditional Belizean vacation.
"We've been catering to health-conscious guests for some time now, with our onsite Hilltop Spa, Maya organic farm, Maya Medicinal Plant Trail, Mariposa Restaurant and other attractions and amenities that promote wellbeing, so it's great to see such a surge in travellers looking for a that kind of experience," Ms Fleming Bradley said.
"In fact, we're hearing more and more that Belize is becoming a mecca for the health-conscious," she added.
Ms Fleming Bradley said that onsite attractions like Chaa Creek's Maya organic farm, which also supplies the eco resort's restaurant with fresh organic produce raised using Maya farming techniques largely unchanged for centuries, have become more popular in recent months.
"People are fascinated that the food on their plates was raised right here using traditional Maya farming methods. It not only minimises our carbon footprint by reducing food miles, or the distance between harvest and plate, but it also gives our chefs the freshest, purest ingredients to work with.
"Guests are also surprised at how widely our forest pharmacy, as we call the Maya Medicinal Plant Trail, is still used by local people, and how well bush medicine works. I think the farm and the plant trail are real eye openers," she said.
Ms Bradley Fleming said that the Hilltop Spa, which uses a range of organic botanicals including cacao, which was one of the local ancient Maya's most important crops, has also grown in popularity.
"We now have a growing number of guests who come here specifically for the Spa, and with the organic food and healthy outdoor activities such as canoeing, hiking and horseback riding, they enjoy a healthy, holistic holiday that enhances their physical and mental wellbeing.
"It's great to see this trend growing," she said.
The Lodge at Chaa Creek, one of Belize's oldest eco resorts, is situated in the country's western Cayo District, which borders Guatemala and was once the hub of a thriving ancient trade and agricultural network, with the Macal and Mopan Rivers converging to create an aquatic "superhighway" that linked Belize's interior to important trade routes on the Caribbean coast.
The resort's 365-acre private nature reserve sits between Caracol and Tikal, two huge ancient metropolises that dominated the region for many years.
"We have a lot of history here," Ms Fleming Bradley said, "and it's great to see that it lives on, not only in the many ancient Maya temples and sites, but in the way we grow food and medicinal plants, and even in our spa, which blends the ancient with the modern.
"Better still is the fact that so many people are now interested in that aspect of eco-tourism and looking to learn how to improve their health while on vacation.
"It's really changing the face of tourism in Belize," she said.
The Lodge at Chaa Creek is a multi award winning eco resort set within a 365-acre private nature reserve along the banks of the Macal River in Belize.