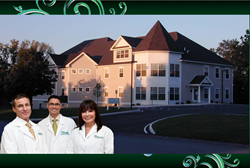 New York, New York (PRWEB) April 28, 2015
Dr. Edwin Williams, one of New York's most respected plastic surgeons, has announced that Dr. Richard M. Basile has joined the Williams Center Plastic Surgery Specialists as a surgeon specializing in leg vein procedures.
The decision to add Dr. Basile to the practice came after a long search conducted by Dr. Williams in finding a surgeon that specialized in leg veins. Dr. Williams said that Dr. Basile is a perfect addition to his team, as each specialist at the Williams Center for Plastic Surgery is the very best in their respective fields.
"We have been getting requests over the years for the treatment of leg veins and it took us a number of years to find a physician that only treats leg veins," said Dr. Williams. "Dr. Basile fits into who we are."
Dr. Basile will focus solely on the treatment of both cosmetic leg veins and varicose veins. He will perform such procedures as Sclerotherapy, VeinWave, Clarivien, Ultrasounds, Foam Sclerotherapy, and Ambulatory Microphlebectomy Venifit procedures.
Dr. Basile is double board certified by the American Board of Venous and Lymphatic Medicine, and the American Board of Surgery. For 23 years, he practiced General and Vascular Surgery at Berkshire Medical Center. In 2006, he expanded his practice to focus on Phlebology and Wound Care. Additionally, Dr. Basile played an integral part in forming the Berkshire Vein Center. In 2010, he established Advanced Vein Care of the Berkshires, which later evolved into Basile Vein Specialists.
Dr. Basile's decision to join the Williams Center Plastic Surgery Specialists came from his desire to expand his practice into the Capital District and add his expertise in both the cosmetic and medical treatment of vein disease. Dr. Basile said one of his primary goals is to ensure his patients are as relaxed as possible. As a result, he performs almost all procedures in the comfort of his office with techniques that are minimally invasive. This results in little discomfort or downtime.
Dr. Williams is board certified by both the American Board of Facial Plastic and Reconstructive Surgery and the American Board of Otolaryngology. He is a graduate of such prestigious universities as Cornell and the Buffalo School of Medicine. Dr. Williams enjoys a national reputation having authored articles for numerous medical journals and textbooks.
Learn more about Dr. Williams at http://www.williamsfacialsurgery.com.