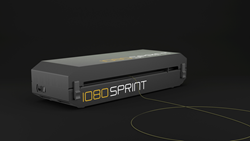 During our evaluation, the 1080 Sprint was used in our NFL Combine preparations and we conclude it to be an invaluable tool for performance development.
Austin, Texas (PRWEB) April 28, 2015
Under the leadership of High Performance Coach Erik Korem, the University of Kentucky football program has successfully completed a 4 month evaluation of the 1080 Sprint system from 1080 Motion.
The 1080 Sprint enhances training and permits testing of force, speed and power produced by an athlete. It is used for linear sprints up to 90 yards or change-of-direction drills. As a training device, the system has a computer controlled resistance that can be constant or variable as the athlete accelerates and builds velocity. For testing, the measurement data is used to gain visibility into how athletes accelerate from standstill and are able to maintain speed over the full sprint distance. Graphical and numerical display of speed, force and power enable performance coaches to detect improvement potential and verify if adjustments to movement mechanics have the desired impact on performance.
Said Erik Korem at University of Kentucky: "During our evaluation, the 1080 Sprint was used in our NFL Combine preparations and we conclude it to be an invaluable tool for performance development. It allows us to get unique insights into each athlete's ability to accelerate and to also gain a better understanding of the athlete's biomechanics. The technology significantly aided in the combine preparation for Bud Dupree, Za'Darius Smith and Braylon Heard. 1080 Sprint has improved our ability to tailor training to the specific needs of our athletes."
Added Peter Holmertz, President of 1080 Motion in the United States: "We are very pleased to see how the 1080 Sprint system has enabled University of Kentucky Football to test and develop player performance. We work with a wide range of elite sports organizations and could not have found a better partner to validate our technology in football. Their scientific approach to performance development and the results that follow are very impressive."