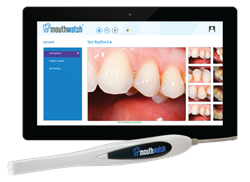 Allowing dental patients to see the need for treatment themselves keeps me as a care provider and not a salesman.
New York, NY (PRWEB) April 28, 2015
Most dentists would rather perform dentistry than sell it. Convincing patients of their need to have dental work done is probably the least pleasant job in the practice. And that means less revenue for the dentist and worsening oral health for the patient.
This problem is solved with the MouthWatch ExamTab, an intraoral camera and custom tablet PC which lets patients discover for themselves in just a few minutes whether or not they need to have restorative or cosmetic dental work done. Studies repeatedly confirm that the most effective call to action for patients to accept dental treatment recommendations is for patients to "see" what the dentist sees.
MouthWatch ExamTab does just that! In the few minutes usually spent waiting for the dentist or hygienist to come into the operatory, patients can use a lightweight, simple intraoral camera to privately take a visual tour of their own mouth and simply by pressing a button, capture images or video of anything they want to discuss with the dentist. Or the dentist or hygienist can assist the patient in "touring" his mouth with the MouthWatch intraoral camera. Images taken with MouthWatch ExamTab are not only available during the exam, but can be stored, printed or exported into patient records.
Using the MouthWatch ExamTab, dentists no longer have to struggle to sell treatment plans. Instead, the dentist becomes a trusted partner in helping patients achieve not only their goals for oral health, but also for achieving the attractive smile they desire. Through visualization, education and prioritizing treatment, dentists increase loyalty among new and existing patients.
MouthWatch ExamTab combines proprietary, HIPAA-compliant software installed on a 7 or 10.1 inch, fully functioning Windows 8.1 tablet computer paired with a high quality intraoral camera that enables patients and professionals alike to conduct a visual oral survey, and document the results.
MouthWatch LLC was formed with the mission to improve communication, dental care, education and connection between dentists and their patients through teledentistry. MouthWatch connects patients to dentists anywhere, anytime.
MouthWatch ExamTab complements the firm's other products including the low cost MouthWatch Intraoral Camera for professional use in each operatory and the MouthWatch Connect service which allows dentists to securely share intraoral images with patients as part of treatment reminders and for consultation with other healthcare professionals. MouthWatch Intraoral Cameras and software also integrate into telehealth programs, allowing any health facility with telehealth capabilities to offer dental screenings and consultations.
If you would like more information about MouthWatch products or the company, please call Brant Herman at 877-544-4342, please email brant(at)mouthwatchpro(dot)com, or stop by booth #2445 at the California Dental Association meeting in Anaheim, California, April 30 – May 2, 2015.