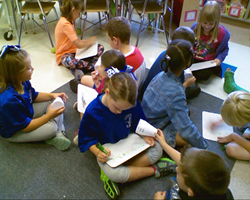 We admire Mrs. Kelly's goal of empowering her students in that way, and couldn't be more honored to stand by her
Miami, FL (PRWEB) April 27, 2015
Faced with limited internal budget, Mrs. Kelly, a 2nd grade teacher at Lakewood K-8C Center in Miami, Florida, is receiving outside support from the community through the efforts of ProVest Insurance Group, to better furnish her classroom. Mrs. Kelly's goal is to have the necessary resources to 'give wings' to her dynamic students' abilities and imagination. The initiative aims to provide a "magic carpet", along with other related materials that will help foster creativity, social interactions, and the discovery of new cognitive skills. Those who also believe education is strong basis to a brighter future for all can now view and contribute to the campaign through http://www.provestinsurance.com/Make-Space-for-Mrs-Kellys-little-Monsters_23_community_cause.
"Since according to many studies our personality is solidified by the end of 1st grade, we agree 2nd grade is a great time to motivate a child's ability to create and explore their now known interests… At that point, they have their own way of perceiving things, so it is our job to make sure they have enough material to create their own definition of the world around them... We admire Mrs. Kelly's goal of empowering her students in that way, and couldn't be more honored to stand by her," said Jay Adkins, principal of ProVest Insurance Group.
Mrs. Kelly admits that her 2nd grade class is very hardworking and, under her guidance - even without the proper materials -, highly engaged in the promoted reading, brainstorming and group activities. They particularly enjoy sitting together and talking about current reading subjects. The challenge she reports, however, is that there is not enough space to properly fit every child on the single rug they currently have. "They need a 'magic carpet', where they can travel together through time and around the world," agreed Adkins.
With agencies in Texas, Florida, and North Carolina, ProVest Insurance Group is employing its social media channels, email and text message communications in the campaign, and dedicating a full page of their monthly magazine to the cause. The electronic version of Our Hometown magazine can be viewed here: http://provestinsurance.com/Our-Hometown-Magazine_10. In addition to promoting the campaign to gather donations, the agency will also contribute $20 to the cause for each person recommended to them for an insurance quote – no purchase necessary.
Operating as agents of change in the community, ProVest will continue to support worthy causes, and announces that any members of the community can request to be considered for future campaigns through this link: http://provestinsurance.com/Submit-A-Community-Cause_25. Entries are diligently submitted for review, and the elected stories are properly contacted by a representative of ProVest's Community Program. More information regarding past and current campaigns supported by the agency can be found at http://www.provestinsurance.com/community-cause.
About ProVest Insurance Group
ProVest Insurance Group's mission as a team is to provide the best insurance and financial services in the industry. Their number one job is to protect the current assets clients have worked so hard for, and to help them invest so they can retire with the right amount of money. ProVest's success is measured by customer satisfaction and the value they bring. The capable agents at ProVest can be easily reached at 1-855-298-7427. More information about the company can be found at http://provestinsurance.com.