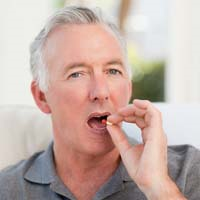 None of these patients reported a grade 3 or above skin reaction...
Raleigh, NC (PRWEB) April 28, 2015
Researchers from four US medical centers have found that giving just one dose of a steroid prior to pemetrexed (Alimta) chemotherapy may keep patients from developing a potentially serious skin reaction. Click here to read the full story on the Surviving Mesothelioma website.
Scientists from the Raabe College of Pharmacy in Ohio, Stanford Cancer Institute in California, the University of California and Appalachian Regional Healthcare in Kentucky gave a single dose of dexamethasone – instead of the usual six – to 14 cancer patients prior to chemotherapy.
"None of these patients reported a grade 3 or above skin reaction over the course of their treatments," reports study author Dr. Raymond Elsoueidi with Appalachian Regional Healthcare Cancer Center.
The report in the Journal of Oncology Pharmacy Practice, focused on patients being treated with pemetrexed, the most popular chemotherapy drug for mesothelioma.
"Taking one pill instead six pills over three days not only gives mesothelioma patients one less thing to worry about prior to chemotherapy but could also help ensure that they don't accidentally miss a dose and raise their risk of developing a rash," says Alex Strauss, Managing Editor of Surviving Mesothelioma.
To read more about pemetrexed-related skin rash as well as other chemotherapy side effects, see New Regimen May Help Mesothelioma Patients Avoid Chemotherapy Skin Rash now available on the Surviving Mesothelioma website.
Elsoueidi, R et al, "Single-dose dexamethasone for the prevention of pemetrexed associate cutaneous adverse reactions", April 22, 2015, Journal of Oncology Pharmacy Practice, Epub ahead of print, http://www.ncbi.nlm.nih.gov/pubmed/25908647
For nearly ten years, Surviving Mesothelioma has brought readers the most important and ground-breaking news on the causes, diagnosis and treatment of mesothelioma. All Surviving Mesothelioma news is gathered and reported directly from the peer-reviewed medical literature. Written for patients and their loved ones, Surviving Mesothelioma news helps families make more informed decisions.