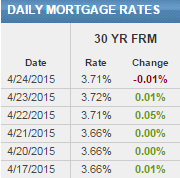 Peoples Home Equity expects the Federal Reserve to raise interest rates as soon as June which would immediately increase the monthly costs of a home loan
Chicago, IL (PRWEB) April 26, 2015
Lenders with much business centered in the Midwest like Peoples Home Equity were not surprised to see that the average 30-year fixed rate rose 0.05% week-over-week.
As shown on MortgageNewsDaily.com, "Daily Mortgage Rates" page, the average 30-year fixed rate rose from 3.66% on Friday April 17th and closed at 3.71% on Friday April 24th.
The largest rise in rates this week occurred on April 22nd when 30-year fixed rates closed up 0.05% after the Mortgage Bankers Association showed that mortgage applications rose 2.3% for the week ending on April 17th.
Peoples Home Equity strongly encourages all prospective mortgage applicants to get pre-qualified now for home loan. The competition is building and 30-year fixed rates are not going to remain sub 4% for long, as demand for housing continues to build into the summer. Further, Peoples Home Equity expects the Federal Reserve to raise interest rates as soon as June which would immediately increase the monthly costs of a home loan. Right now, time is of the essence. Home sales are rising, home prices are rising, and interest rates are expected to rise, the competition is growing, bystanders simply need to get involved and get pre-approved for a loan.
Many young first-time home buyers are applying for a home loan this spring. First-time home buyers have had ample time since the recession to find a job, build their credit, and save for a down payment. Now this younger group is very eager to stop paying their land lords since the total cost of a mortgage + HOA fees + property taxes often costs much less than rent!
If interested in purchasing a property and are in in need of a mortgage, consider speaking to a Peoples Home Equity loan officer today at: 262-563-4026