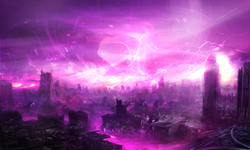 ...some of the most precision plastic models ever to be made, with details as small as 0.1mm
London, England (PRWEB) April 28, 2015
Maelstrom's Edge is a science fiction universe of desperate survival where every moment counts, and where there is always a way to change the game.
"The Maelstrom is a gigantic apocalyptic explosion of dark energy, rapidly expanding out from the heart of the galaxy and destroying everything it touches," explains the Spiral Arm Studios team. "Those living in worlds on the edge are forced to abandon their homes for deep space, while the logistics of evacuating an entire planet force everyone to choose to help themselves or help each other, give or take, fight or die, creating a dynamic environment full of human drama and potential for great stories and conflict. Worlds further from the Maelstrom are facing countless billions of survivors, fleeing towards them while desperate for resources, creating intense pressures which turn into great stories and a dynamic and fascinating game."
In the Maelstrom's Edge tabletop game, physical plastic models are moved around a playing area to simulate a battle. The models are some of the most precision plastic models ever to be made, with details as small as 0.1mm. Every model is made in multiple parts with multiple variable poses allowing players to customise their forces to exactly match their preferences.
The Maelstrom's Edge tabletop game has been written from scratch by one of the world's leading authorities on tabletop wargaming: Jon Regul of DakkaDakka.com. For over a decade Jon has fixed other people's rulesets for major gaming tournaments, and for the past three years has been developing the rules for Maelstrom's Edge, a game based around solid, proven concepts but with countless improvements to ensure a fun and engaging game every time it is played.
"With over a century of gaming experience between the members of the team, we've long had an itch that we've needed to scratch. We've craved a science fiction universe which combines believability with intense drama and human situations, allowing a game to be as immersive and engaging as any other media," says Jim Felton, managing director of Spiral Arm Studios Ltd.
The project has the unique distinction of originating online, combining the very best experts from all over the world, from leading sculptors and plastic manufacturers, to world class artists and a top tier writing team.
The game is live on kickstarter now at http://www.maelstromsedge.com/ks