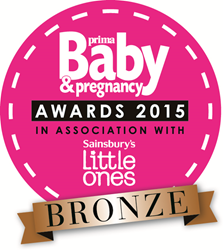 [Being parents ourselves] inspired us to leverage our deep expertise in pure ingredients sourcing and organic product formulations to develop products we can use for our own kids.
(PRWEB UK) 28 April 2015
Alteya Organics announced today it received another international recognition for company's Award-Winning Certified Organic Mum and Baby Skincare line. The popular British 'Prima Baby' magazine announced in its fourth special award issue in April 2015 that both the 'Alteya Organics Baby Diaper Rash Cream' as well as the 'Alteya Organics Baby Wash' won the votes and hearts of the jury panel, including industry experts, journalists and parents. After an intense testing period of more than 400 shortlisted products, lasting several months, both Alteya's organic baby products were rewarded the Bronze Award in the competitive categories 'Best nappy rash product as voted for by Prima Baby readers' and 'Bath Products.'
UK's Prima Baby Magazine, with a readership of over 113,000, focuses on new and existing parents: answering the pressing issues that every mum and dad and parents-to-be might face and offering advice and practical information on pregnancy, birth and childcare, expert health, nutritional advice, plus essential consumer information. Kelly Beswick, Editor of Prima Baby, says: "We believe our awards give mums and dads a clear, impartial and trusted guide to getting the best out of family life."
According to Vital Life, one of UK's leading marketing companies, "Prima Baby's warm yet trusted approach succeeds in reassuring and supporting the reader; sharing knowledge and experiences, while celebrating the joy of parenthood. This is why the Prima Baby Awards are so prestigious, as they recognise those products that parents genuinely swear by and love and have proven a great source and vital guide to pregnancy, birth and early parenthood supporting both emotional and practical needs."
"The team at Alteya Organics is thrilled to receive another great set of awards this year. We feel proud with this recognition," said Alteya's Managing Partner Daniel Kolev right after the official announcement: "As parents ourselves, our three managing partners, who have a total of seven young children, ranging from a new-born to a 5 year old, have experienced the difficulty in finding effective, safe and true certified organic skin care for our own babies and children. This inspired us to leverage our deep expertise in pure ingredients sourcing and organic product formulations to develop products we can use for our own kids. This turned out to be a great formula for success! In addition, our products are not only effective, but they are also environmentally friendly and help support local communities."
Alteya's award-winning Baby and Mom line is available for purchase at [http://www.AlteyaOrganics.com and at Amazon Europe.
---
Alteya Organics, a multiple award-winning beauty company, with its own certified organic rose farms in the heart of the Bulgarian Rose Valley, grows the organic Rosa damascena, distils essential rose oil (rose otto) and rose flower water, and creates organic skin care all according to world's most strict, the USDA NOP, organic standard. Key company products include the award-winning therapeutic-grade Organic Bulgarian Rose Waters, Mum and Baby skin care line, Organic Rose Face Washes, Rose Face Serums with Bulgarian Rose Oil, and Organic Face Toners.