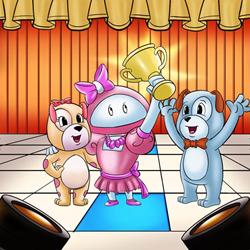 Coding is going to be literacy for the future generation. We want to provide affordable coding education to all kids.
(PRWEB) April 28, 2015
Can a 3 year old learn coding? Yes! That is exactly what Coding Palz is trying to accomplish through its story books.
So far the first 4 books in the series are on Amazon. The books rank within top 20 in the Children' programming genre.The full series will have a total of 20 books. Coding Palz team has set up a crowdfunding campaign on Indiegogo to help fund the rest of the series.
The creative spark behind Coding Palz is Ayesha Hameed. She is a passionate coder whose love for coding landed her as a Software Design Engineer in Microsoft. When her 3 year old daughter asked her to tell stories, she looked for story books that introduce programming.Seeing a lack of such books for younger kids , she made up stories herself. When Mohamed Ibrahim, a former SAP developer heard these stories he took it to the next level by releasing the books. Coding Palz books are for kids 3-8.
Json , Jazz & Ruby the robot are the Coding Palz. From winning dance competitions to securing their treasure, they solve challenges using their coding skills.
Sometimes their coding experiment leaves a kitchen overflowing with soup. But no worries, they know how to get things back on track.
The whole series will cover topics like Loops, Decision making , Database , Array , Procedures and much more.
Even a small contribution of 5$ will get 5 coding books.
Contribute to the Coding Palz series.