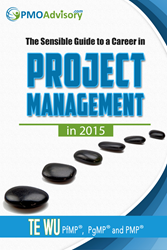 As a teacher, a practicing project manager, and a project executive, I searched everywhere for a comprehensive guide... Finding none, I decided to write my own.
Cedar Grove, NJ (PRWEB) April 27, 2015
PMO Advisory (http://www.pmoadvisory.com), an innovative management consulting and training firm that helps organizations bridge the gap between ideas and execution and enhance workforce development through project management training, has recently completed its latest book: "The Sensible Guide to a Career in Project Management in 2015". In addition to addressing the questions of what, why, and how to build a career in project management, the book provides a comprehensive career ladder with suggestions at each rung. To make the book more relevant and tie everything together, the last chapter presents four short stories of real stories as they overcome career barriers: a student interested in project management, an entry level professional contemplating becoming a project manager, a certified project management professional (PMP) embarking on program management, and a project executive leading a portfolio of strategic initiatives.
Most importantly for the general population, this book is priced to advance PMO Advisory's social mission. On the Amazon Kindle's price, the book is listed at the lowest price possible or $0.99 with a planned promotion price of $0.00 every five days out of a ninety day cycle. The limited number of days reflects Amazon's promotion policy.
"As a teacher, a practicing project manager, and a project executive, I searched everywhere for a comprehensive guide that helps students and project professionals with advancing their careers in project management" stated Te Wu, founder and CEO of PMO Advisory. "Finding none, I decided to write my own. The product is a 200 plus page book that covers all the most important concepts and career plans. Plus, this book is a work-in-progress, and periodic updates will be made throughout the year."
PMO Advisory chose the Amazon platform for publishing, in both Createspace for print and Kindle for ebook, because Amazon has the most robust distribution channel. In addition, Amazon Kindle has a promotional program in which the book can be sold for Free. The book is available immediately on Amazon for $0.00 to $0.99 on Kindle and $15.99 in print. The free promotional days are tied to the start of college semesters. To find the promotion dates, visit http://www.pmoadvisory.com/pmcareer. In addition to the book, there is a LinkedIn support group (http://www.bitly.com/LinkedIn-PMCareer) for ongoing discussions.
About PMO Advisory
PMO Advisory is a socially minded management advisory and training firm with expertise in business and IT execution, serving as a resource to help enable ideas for organizations. PMO Advisory helps transform business ideas, plans, objectives and vision into reality using a proven, customizable consulting approach. The firm's advisory team is expert in portfolio, program and project leadership, process improvement, business transformation, and data analysis and visualization. As a training company, the firm is an approved member of Project Management Institute's Global Registered Education Provider (PMI-R.E.P.) program offering Intelicamps™ (intelligent and accelerated bootcamps) and training courses for portfolio- (PfMP), program- (PgMP), and project- (PMP and CAPM) management certification training.
For more information, visit PMO Advisory on the web at http://www.pmoadvisory.com. For more information on our Portfolio Management products, visit us there at http://www.pmoadvisory.com/discounts.
About Project Management Institute (PMI)
PMI is the world's largest project management member association, representing more than 600,000 practitioners in more than 185 countries. As a global thought leader and knowledge resource, PMI advances the profession through its global standards and credentials, collaborative chapters and virtual communities and academic research. PfMP, PgMP, PMP, CAPM, and PMI-REP are registered marks of Project Management Institute, Inc.