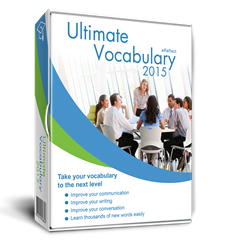 ...an increase in vocabulary skills makes people more confident and proficient language users.
New York City, NY (PRWEB) April 29, 2015
eReflect, a leading educational software company, announced today that Top Ten Reviews has awarded a gold aware to Ultimate Vocabulary™ along with an overall 9.9 rating in quality standards. This evaluation by the noted review panel puts Ultimate Vocabulary™ far ahead of competitors like Word Smart and Verbal Advantage.
eReflect applauds Top Ten Reviews' ongoing commitment to inform consumers about the most efficient web tools and applications. The company is pleased that Ultimate Vocabulary™ is the reviewer's top choice when it comes to software for individuals who want to improve their vocabulary in a fun and easy way.
Ultimate Vocabulary™ by eReflect has been thoroughly tested and reviewed by the Top Ten Reviews editor, who gave the program consistently high ratings in every aspect of quality control, including 9.75 for the program's teaching tools, 10 for its instruction quality, and 10 for its subject breadth.
Top Ten Reviews offers detailed guidance on ways that individuals can choose the most appropriate vocabulary software for their needs, including what teaching tools to look for and what information beside word definition must be provided for a vocabulary program to be considered a good choice.
For Top Ten Reviews, the undeniable winner is Ultimate Vocabulary™, classified as is the best vocabulary building program for individuals who are looking for quick and effortless improvement of their communication skills. The comprehensive array of features, tools, and activities the program offers means that no other vocabulary builder can compete with Ultimate Vocabulary™.
In the program's evaluation the Top Ten Reviews editor highlights that the software is a powerful tool with unique features and a user-friendly interface that makes learning through activities and vocabulary games easy and fun. A total of 11 vocabulary builders were evaluated and compared to one another before the final rankings were revealed by Top Ten Reviews.
eReflect thanks the editorial team at Top Ten Reviews for evaluating the vocabulary program and acknowledging its potential to improve vocabulary, noting that an increase in vocabulary skills makes people more confident and proficient language users. Ultimate Vocabulary™ 2015 is the latest release of the program, containing new features and capabilities including cloud technology and social media integration.
***********
For more information on how you can benefit from Ultimate Vocabulary, please visit its official website, http://www.ultimatevocabulary.com.
About Ultimate Vocabulary™
Ultimate Vocabulary provides a proven and powerful platform, built to improve anyone's vocabulary.
The interactive self-improvement system provides more learning tools than any other program on the market, as well as more information on words.
The Ultimate Vocabulary software provides each and every user with a personal computer tutor. Providing a step-by-step guide to learning a powerful vocabulary, Ultimate Vocabulary is the learning tool everyone can benefit from.
Of course, the software is also backed by eReflect's iron-clad money back guarantee.