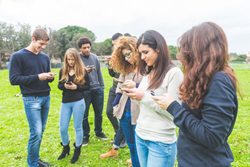 We've developed Coinzone Wallet in response to an overwhelming demand from users seeking a wallet that stores their sensitive information locally in Europe.
Amsterdam, Netherlands (PRWEB) April 28, 2015
Coinzone, a leading Bitcoin payment solution provider dedicated to making it easy for European merchants and consumers to use and accept digital currencies, today announced it is poised to launch a new web-based 'wallet' that will let users send, receive, buy and sell Bitcoin. Universally available wherever users have a web browser, Android and iOS apps will enable users to manage and authorise their Bitcoin transactions while on the move.
Available this summer, the Coinzone Wallet eliminates the complexities of transacting in Bitcoin, making it simple for a growing community of European consumers.
The fully-featured personal wallet will support country-specific local currencies for bank deposits and withdrawals, transfers and instant payments, and has been specifically developed to address privacy and legal frameworks in operation across the region.
"Growing European demand for Bitcoin means more and more consumers want a simple and secure way to transact", says Manuel Heilmann, CEO and Co-Founder of Coinzone. "We've developed Coinzone Wallet in response to an overwhelming demand from users seeking a wallet that stores their sensitive information locally in Europe."
Made in Europe, for Europe, Coinzone offers a deep understanding of the European regulatory landscape – specifically EU privacy, secure payment and data protection laws. All data will be securely hosted in European data centre locations, giving Coinzone Wallet users the assurance of protection under European privacy laws.
Offering a simple yet highly secure way for consumers to buy and sell Bitcoin using their bank account, the Coinzone Wallet will feature all the multi-layer verifications European consumers expect to encounter when undertaking secure online or mobile transactions, thanks to Coinzone's strict adherence to EU payment services guidelines.
"Our aim is to make it easy for European consumers to do more with Bitcoin," continues Manuel Heilmann. "From peer-to-peer payments to spending Bitcoins with businesses, we've designed a hassle-free wallet solution that allows users to transact with confidence, utilising the local language, currency and payment instruments that are relevant to where they live."
"The Coinzone Wallet is an important milestone for Coinzone towards a full-stack Bitcoin solution," concludes Heilmann. "It is set to literally get Bitcoin into the hands of consumers so they can transact as and when they wish – and we've been inundated by requests from people who have requested to join the wait list for the service in the run up to launch."
Consumers wanting a simple and secure way to use Bitcoin that has been tailored to European users are encouraged to sign up for early access by visiting http://bitcoinwallet.coinzone.com/signup.
ENDS
About Coinzone
Headquartered in Europe, the Coinzone team has many years of experience in both international e-commerce and payments. Coinzone's mission is to provide the best user experience that eliminates the geographic boundaries and complexities of payments by enabling businesses and individuals to easily transact with digital currencies. Made in Europe, for Europe, its Bitcoin merchant payment gateway and point-of-sale (POS) platform is available in over a dozen languages and is tailored to each European market it operates within. For further information visit http://coinzone.com.