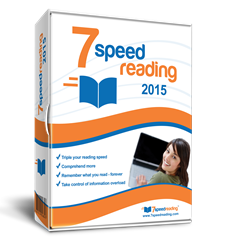 Reading faster is a learnable skill everyone can have, and deserves to have...
New York City, NY (PRWEB) April 30, 2015
eReflect's speed reading program continues its 2015 winning streak of rave reviews by independent organizations and bloggers. eReflect is proud to announce a positive review by Software Review Boffin. The site manager tried and tested the program and offers his verdict on its effectiveness on SoftwareReviewBoffin.com.
The reviewer practiced his speed reading skills using the program, in order to be able to offer an honest and experience-grounded verdict on its strengths and weaknesses. The Boffin site awarded eReflect's ultimate speed reader the gold award along with a five-star rating for its excellence and ability to deliver on its promise to help people read up to 3.4 times faster.
According to Software Review Boffin, 7 Speed Reading™ is one of the best speed reading programs out there for a couple of reasons. One reason is its crisp and minimal user interface, which is friendly and intuitive enough to immediately make the user feel at ease and motivated to practice.
Secondly, the software offers a varied approach to learning that encompasses video tutorials, progress tracking tools, games, and activities. These have been developed by experts and are based on the latest reading and literacy research, making the program the go-to solution for people wanting a significant improvement in their reading competency.
The Software Review Boffin editor doesn't omit mention of the seven speed reading strategies the program presents the user with. These seven strategies help the learner overcome bad reading habits that are counter-productive and time-consuming, and teaches time-efficient ones that promote faster learning and increased cognitive processing of information. Regression, subvocalization, and narrow eye fixation are among the habits the program manages to reverse through tailored activities.
eReflect is proud that its 7 Speed Reading™ program has been recognized by the prestigious Software Review Boffin organization for its ability to help people become better readers of non-fiction material. Reading faster is a learnable skill everyone can have, and deserves to have, the eReflect representative concludes.
************
For more information about the benefits of using 7 Speed Reading, please visit the official website at http://www.7speedreading.com.
About 7 Speed Reading™
7 Speed Reading is the only modern speed reading software that uses the latest technology to produce superior results.
The software provides its users with a new way to master speed reading that guarantees three times the reading speed along with improved memory and comprehension.
The software is poised as the most comprehensive speed reading system anywhere. It contains seven learning strategies, fifteen software activities, video training, advanced tracking capabilities and many more exciting features.