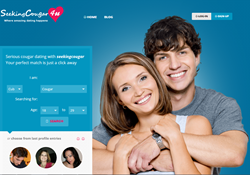 Where amazing dating happens!
LA, CA (PRWEB) April 28, 2015
April 24, 2015: A renowned dating website, 'Seekingcougar.com', has recently revamped its overall appearance and added several new features. The website is one of the many cougar dating websites but probably has the greatest number of active members. Through this website, many people in the US have managed to find the love and relationships they always desired. With its overall updated appearance and added features, the website has grabbed the attention of even more people across the US. The website is designed with great care to keep it simple and attractive yet sophisticated. According to the experts, 'Seekingcougar.com' is one of the best cougar dating sites in the US. The website also helps people solve their relationship issues by regularly posting informative blogs and articles.
When asked, the CEO of the company said, "We hope our charming old women and young boys will enjoy spending even more time on this website looking to find the love of their life." He further added, "Our members number over five million and counting. This is a really great website; we make amazing cougar dating happen."
'Seekingcougar.com' is the most trusted cougar dating website in the US. The website has over five million active members at present. It is a dating platform for older women seeking relationships with younger men. The trend of older women dating younger men is a hot topic across the globe and consequently the website is receiving lots of attention from both men and women. People can also follow the 'Seekingcougar.com' through social media networks including Facebook, Twitter, Google Plus and Pinterest.
About 'Seekingcougar.com'
'Seekingcougar.com' is an online dating website that caters specifically to those older women seeking a relationship with a younger man and vice versa. The website recently revamped its interface to make it even more user friendly and interesting to use.