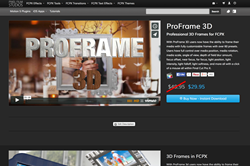 This FCPX effect comes with over 60 presets.
Aliso Viejo, CA (PRWEB) April 30, 2015
With FCPX effect ProFrame 3D, users now have the ability to frame media with fully customizable frames. With ProFrame 3D users have over 60 fully customizable frames.
ProFrame 3D on-screen controls allows users to have full control over each frame's position, scale, z rotation, x rotation, and y rotation. With Pixel Film Studios' plugin ProFrame 3D, on screen controls users can easily rotate and position of the frame all within three-dimensional space to get that perfect angle or position with a click of a mouse all within Final Cut Pro X.
ProFrames 3D allows users to fully customize each frame by utilizing the 3d text customization tool so that they apply and alter their own material, distress, lighting, depth, weight, edge, and much more all with a click of a mouse.
ProFrame 3D was professionally designed to work seamlessly inside of Final Cut Pro X. As a FCPX generator effect, each ProFrame 3D preset can be dragged and dropped onto the user's media and previewed in real time.
Established in 2006, Aliso Viejo, California-based Pixel Film Studios is an innovative developer of visual effects tools for the post-production and broadcast community. Their products are integrated with popular non-linear editing and compositing products from Apple FCPX. Apple, the Apple logo, Mac OS X, and Macintosh are registered trademarks of Apple Inc. in the U.S. and/or other countries. All other trademarks and trade names are the property of their respective owners.