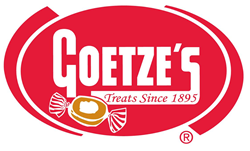 We are grateful stewards of our heritage of integrity, loyalty and an ongoing dedication to quality
Baltimore, MD (PRWEB) April 28, 2015
Goetze's Caramel Creams® is the quintessential American candy you remember from childhood. A soft, chewy caramel wrapped around a decadent real cream center, Goetze has become a timeless treat over its 120-year history. Loved by several generations, Caramel Creams® and Cow Tales® hearken back to a more innocent time when people relished in simple goodness.
Goetze's Candy Company, Inc., was founded in 1895 by August Goetze. His passion for candy led him to focus on developing and perfecting one product, which became the iconic Goetze's Caramel Creams®. Later Cow Tales® followed - the same great taste in a new shape. Now, five generations later, the Goetze's Candy Company is celebrating 120 years of candy production. Proudly, the focus remains on the products that started it all, which is still made today with all U.S. ingredients.
This anniversary is even sweeter to the Goetze family, as they think back to how much the candy industry has grown over the years, and how many memories their brands have created for their consumers.
"We are grateful stewards of our heritage of integrity, loyalty and an ongoing dedication to quality that has guided us as a company with timeless products and loyal customers. Nothing makes us prouder than hearing a customer tell us that she remembers eating Caramel Creams® with her grandmother and today, she shares them with grandchildren of her own," says Mitchell Goetze, President and COO.
Commemorating this milestone anniversary throughout this spring and summer, Goetze will be handing out hundreds of thousands of free samples around the Southeast at minor league baseball games, Fourth of July parades and other community events.
Spelled Goetze, it is pronounced "Gets" as in "Goetze some to share!" or "Goetze some for the road!" These favorite childhood memories may be purchased at local grocers, convenience or drug stores, including: Walmart, Food Lion, Harris Teeter, Ingles, Lowes Foods, Publix, BI-LO, Kroger, Kangaroo Express, Speedway/Wilco Hess, Sam's Mart, The Pantry, CVS, Walgreens, and Rite Aid.
Goetze's Candy Company, Inc. is a fifth generation, family-owned company, manufacturing confections since 1895, and specializing in caramel and cream sweet treats. Goetze's caramels are branded under the Caramel Creams® and Cow Tales® names and are always made with the finest U.S. sourced ingredients in our plant in Baltimore, Maryland. http://www.goetzesome.com