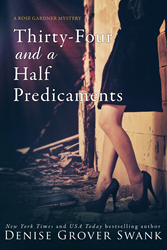 Manning, SC (PRWEB) April 28, 2015
Denise Grover Swank has taken her readers on a journey with the Rose Gardner series which leaves her fans always wanting more. On April 28th 2015, the wait is over.
About the book:
Rose Gardner hates seeing her normally flamboyant best friend Neeley Kate with depression. So when Rose stumbles onto a piece of evidence indicating her birth mother may have been involved in a crime, she does the one thing guaranteed to cheer Neeley Kate. She convinces her friend to help solve a mystery. Though their penchant for investigating has gotten them into plenty of pickles in the past, what can go wrong if they're looking into a case that went cold a quarter of a century ago? But the deeper they dig, the more dirt they unearth.
While she's busy unraveling the past, Rose must also reprise her role as the Lady in Black as part of her ongoing agreement with the king of the Fenton County underworld. In so doing, she discovers a mysterious enemy is intent on attacking her friends, and her assistant DA boyfriend might be next on the list.
As both situations reach boiling point, Rose must face the possibility that certain secrets were meant to remain buried and not even her special talent can get her out of every predicament.
About the Author:
New York Times and USA Today bestselling author Dense Grover Swank was born in Kansas City, Missouri and lived in the area until she was nineteen. Then she became a nomadic gypsy, living in five cities, four states and ten houses over the course of ten years before she moved back to her roots.
She speaks English and a smattering of Spanish and Chinese which she learned through an intensive Nick Jr. immersion period. Her hobbies include witty Facebook comments (in her own mind), and dancing in her kitchen with her children. (Quite badly if you ask her offspring).
Hidden talents include the gift of justification and the ability to drink massive amounts of caffeine and still fall asleep in two minutes. Her lack of sense of smell allows her to perform many unspeakable tasks. She has six children and hasn't lost her sanity. Or so she leads you to believe.
You can find out more about Denise on her website.