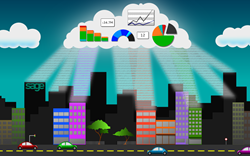 Searching for company insights as easy as searching the web using Bing or Google
Buford, GA (PRWEB) April 27, 2015
Wednesday 29th April
18:00 – 18:15 London
13:00 – 13:15 New York
The accounting software in a small to medium sized business can be a fantastic source company data, but it can be difficult to turn this into useful business insight. Microsoft Power BI is a powerful business intelligence and analysis tool that is very accessible for general business users. It will shortly be available pre-connected to Sage 50 accounting software.
"When I first saw Microsoft Power BI, my jaw dropped" says Hugh Johnson, SVP Business Development at Suntico. "Searching for company insights as easy as searching the web using Bing or Google."
Suntico is using its web application program interface (API) and accounting software connector technology to link Microsoft Power BI to Sage 50.
"We have done all the setting up for our customers so they don't have to." continues Hugh Johnson. "In this way our clients can get to see their own data in Microsoft Power BI in a matter of minutes. They can then access this data over the web and using any tablet or smartphone. The new Free plan from Microsoft will make this particularly attractive to small businesses using Sage 50."
In this Google Hangout on Air, attendees will get a sneak preview into what will soon be available for companies that use Sage 50 and other popular accounting software products.
About Suntico:
Suntico is an online account management system for manufacturing and wholesale companies who value face to face contact with their customers. It includes a Facebook-like interface that makes it incredibly intuitive and is currently available for Sage 50 Accounting US (formerly Peachtree), Sage 50 Accounting Canada (formerly Simply Accounting), Sage 50 Accounts in the UK and Ireland, and Sage One (Ireland and UK).