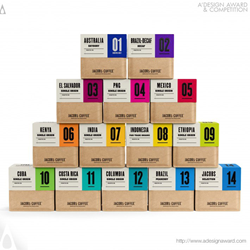 Como, Italy (PRWEB) April 27, 2015
A' Design Award and Competition is pleased to inform that the design project Jacobs Coffee by Angela Spindler has been announced as a winner of the Platinum A' Design Award in Packaging Design Competition Category.
Details of Jacobs Coffee
Angela Spindler, the creator of the awarded packaging project "Jacobs Coffee" said, "This packaging is unique as it takes a conventional coffee bag and places a box style lid over the top to deliver a flat surface providing both functional stackability and large format space for branding and product differentiation. The lid itself employs winged engineering to hold it in place. The wings reverse fold up against the side panels and then catch in place in the fold of the bag thus ensuring the lid can not slip off. The packaging provides the consumer with strong brand messaging and product differentiation defined by a distinctive color and numbering system."
Learn more about the award winning design: https://competition.adesignaward.com/design.php?ID=40664
The Platinum A' Design Award
The Platinum A' Design Award is a highly prestigious design award status given only the top 1% entries in the A' Design Award & Competition. The designs are judged by a 70-person grand jury panel of prominent scholars, design professionals as well as media members. Entries are peer-reviewed and anonymously judged on aspects such as functionality, ergonomics, engineering, presentation, innovation, usability, fun details, technology, and other product-specific criteria to determine the winners. Laureates are entitled to receive the Platinum A' Design Award Trophy as well as the A' Design Prize. The A' Design Prize includes a series of PR and publicity tools to promote winners in addition to design mega store listing, mood exhibition, yearbook participation and award-gala invitation.
About A' Design Award and Competition
The International A' Design Award and Competition was established in 2009 in order to create a global awareness for good design practices and principles by promoting excellent design work in all categories from all countries. The ultimate aim of the competition is to push forward designers and companies worldwide to come up with superior projects that benefit society. Learn more and discover the A' Design Awards at http://www.designaward.com