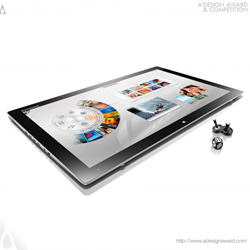 Como, Italy (PRWEB) April 27, 2015
A' Design Award and Competition is pleased to inform that the design project Lenovo Horizon 2 27 by Yingjia Yao has been announced as a winner of the Platinum A' Design Award in Digital and Electronic Devices Design Competition Category.
More on Lenovo Horizon 2 27
Yingjia Yao, the project leader of the award winning Consumer Electronics project Lenovo Horizon 2 27 demonstrated "In the modern home personal computers are no longer a personal productive tool for working, it is now a multi-scenario computer for the family. Horizon 2 is a revolutionary computing platform designed to meet the changing technological environment of the modern families. It is designed for multi-scenario usage. It has an integrated stand with internal compression mechanism on the back that allows easy angle tilt with single hand operation." Learn more: https://competition.adesignaward.com/design.php?ID=40207
Creative Team for Horizon 2 27
Horizon 2 27 was made by Lenovo Design & User Experience Team
About Platinum A' Design Award
The Platinum A' Design Award is a prestigious title granted to the top 1% percentile designs that take part in the A' Design Competition. Entries to the A' Design Award & Competition are peer-reviewed and anonymously judged by a grand, grand jury panel composed of experienced scholars, established academics and prominent designers. Laureates of the Platinum A' Design Award are included in the Best Designers Platform.
About A' Design Award and Competition
A' Design Award and Competition aims to highlight and promote excellent architectural projects, best designs, good design concepts and high quality design oriented products worldwide in order to create a global awareness for good design. The ultimate aim of the A' Design Award and Competition is to push designers, architects, brands and product manufacturers to create products and services that benefit society, given this perspective the A' Design Accolades are organized and awarded annually and internationally in multiple categories to reach a wide, design-oriented audience. Learn more about the A' Design Contest at: http://www.whatisadesignaward.com