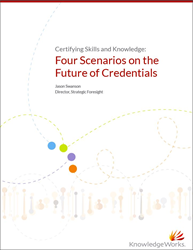 Through alternative credentialing options, the employment sector will start to see a more robust and diverse workforce.
Cincinnati, OH (PRWEB) April 27, 2015
In a world of high school diplomas, college degrees or certificates, skillfully formatted resumes and LinkedIn profiles, educational and professional experiences are carefully documented and understood for potential employers.
Online courses and badges have emerged in recent years as alternative credentialing opportunities to demonstrate knowledge and expertise. However, despite a rise in popularity, the validity of such credentials is still questionable.
Today, KnowledgeWorks released a paper, "Certifying Skills and Knowledge: Four Scenarios on the Future of Credentials," which expands on the organization's future learning forecast. The paper considers trends in the education and employment sectors to explore four possible scenarios reflecting how credentials might reflect individuals' knowledge and skills in ten years' time.
"Through our research, we're seeing that the future of education and the workforce could have profound shifts in structure throughout the next 10 years," said Jason Swanson, KnowledgeWorks director of strategic foresight and author of the report. "These disruptions are changing what it means to acquire knowledge and skills and also how we might credential those accomplishments."
In an ideal future, expanded learning environments would allow students to learn across places and times, with a range of people helping them develop various skills. The paper builds off this idea, considering how student learning may be evaluated when education isn't based solely in the classroom.
Each of the four scenarios explores possibilities ranging from relatively small changes to today's credentialing environment to an unlikely but inventive future in which educators would examine a learner's cognitive abilities to more accurately portray his or her experiences and abilities. The scenarios consider possible impacts of new experience-tracking technologies, breakthroughs in the mapping and monitoring of brain functions, and other developments.
Similar to the way Boy Scouts and Girls Scouts earn badges after mastering skills, learners and employees in the future may earn a wide range of credentials to more clearly demonstrate professional skills, such as writing ability, technology development aptitude and team-building capacity.
"Workforce development would benefit from an updated credentialing system for the 21st century," KnowledgeWorks President and CEO Judy Peppler said. "As education changes to a more vibrant learning ecosystem, so will the workforce continue to change to a more networked environment. We will need to be able to track learning experiences to better understand an individual's qualifications and skillset. Through alternative credentialing options, the employment sector will start to see a more robust and diverse workforce."
Swanson will host a Twitter chat about the paper at 1 p.m. on May 1, using #FutureEd.

ABOUT KNOWLEDGEWORKS
KnowledgeWorks is an Ohio-based non-profit social enterprise that works to foster meaningful personalized learning that enables every student to thrive in college, career and civic life. KnowledgeWorks works on the ground with schools and communities through a portfolio of innovative education approaches, helps state and federal leaders establish policy conditions necessary to prepare all students for success, and provides national thought leadership around the future of learning. To learn more about our strategic foresight work, see knowledgeworks.org/strategic-foresight.