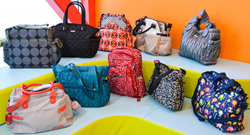 We focused on qualities like ease of use, storage, comfort, quality and even style to determine the best of the best when it comes to diaper bags.
Cheyenne, Wyoming (PRWEB) May 15, 2015
The winners of the 2015 top diaper bag review were revealed today in a publication by baby product review website, BabyGearLab.com. The team, led by Board Certified Pediatrician Dr. Juliet Spurrier, put several popular bags through the wringer in both laboratory and real-world settings. The bags then earned a score in each of the following categories: storage and ease of use, quality, comfort and style. The comprehensive review can be seen over at BabyGearLab.com.
Award winners are listed as follows:
The Skip Hop Chelsea Downtown Chic Diaper Satchel earned top honors as Editors' Choice. "This is a versatile and functional bag that made staying organized with baby a breeze," says Dr. Spurrier. "It was our highest performing diaper bag, yet came in at a low enough price point that it should please even the most budget conscious."
Winner of the Best Value Award was another Skip Hop bag, the Forma. "Inexpensive and well made, this bag also offers fantastic accessories and ample storage space," notes Dr. Spurrier. "The Forma would work great for those on a budget who don't want to sacrifice style for function."
Top Pick for Versatility went to the Petunia Pickle Bottom Sashay Satchel. "This is a company known for quality and style, and in our experience, this bag did not disappoint," states Dr. Spurrier. "On top of that, its ability to transition easily from handbag to backpack offered versatility like no other we tested."
An article entitled "How to Choose the Perfect Diaper Bag" was also published online by BabyGearLab. This guide is designed to help readers sort through some of the key factors they'll want to consider when looking at purchasing a diaper bag.
For this review, the bags were lugged all around town during busy days, to and from the office, to the park and even on vacation to Hawaii. This real, day-to-day use gave Editors the ability to critically analyze how each bag really stands up when compared to the competition.
About BabyGearLab LLC
BabyGearLab is dedicated to providing the world's most in-depth reviews on items used from baby's birth through first year. As a pediatrician and mother of two, founder Dr. Juliet Spurrier knows first hand the importance of helping new parents sort through the often overwhelming experience of purchasing baby-related gear.