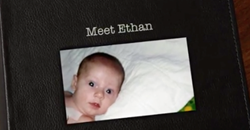 Ethan is an amazing, strong young man living with extraordinary health challenges. As friends of the Morris family, we want to come together not only to establish a medical fund, but to support this family's difficult journey with love.
Arlington, TX (PRWEB) April 28, 2015
With a new community program in the Arlington area, The Holguin Agency has turned its focus to help a local family, and announced a new charity campaign to raise funds to support, Ethan an eleven-year-old boy diagnosed with EGID. EGID is a rare and chronic illness that has no cure. As a result, Ethan is forced to endure painful and intolerable symptoms on a daily basis; in spite of the complicated treatments and surgery required to keep Ethan alive, his condition has no cure. Unfortunately it will also become more complicated with time. The Holguin Agency is creating this campaign with the mission of helping alleviate the overwhelming financial burden Ethan's family faces, and simply cannot cover on their own. Donations to the family can now be made through the campaign's page at: http://www.holguinagency.com/Ethans-Story_18_community_cause
Utilizing its own resources and seeking the help of its own network of customers and business partners, The Holguin Agency marches on to ensure customers, friends, family and neighbors are always in good hands. The agency just recently launched the master charity program of which the current campaign is part of, electing every 30-60 days a new individual, organization or family in need to receive support.
The agency will promote the current campaign over the course of the next 30-60 days, through its social media channels, email and text message communications, as well as through a monthly magazine, delivered to hundreds of households in Arlington, Texas where the agency currently operates. Our Hometown magazine reserves a full page to feature the campaign and details of the cause. The electronic Flipbook version of the current issue can be accessed here: http://www.holguinagency.com/Our-Hometown-Magazine_39
To join The Holguin Agency in supporting The Morris Family donors are encouraged to visit http://www.holguinagency.com/Ethans-Story_18_community_cause and also share the page with friends and family. Contributors may be acknowledged for their donations through the agency's monthly magazine.
Once the current campaign is over, The Holguin Agency will continue to work closely with Ethan and his family as well as nonprofit organizations in the area, to make sure resources are directed to capable hands that can help better the local community, one family or person at a time. Information regarding past and current campaigns supported by the Agency can be found at http://www.holguinagency.com/community-cause. More information about The Holguin Agency can be found at: http://www.holguinagency.com.
About The Holguin Agency
Yvette Holguin and her sister Sonia Holguin Castro have worked with Allstate for over 25 years, combined. During that time they have learned what makes and keeps their customers happy, and established their agency's focus on providing them with the most courteous and exceptional service possible. It is their priority to function as their trusted advisor, properly covering their assets and offering expert advice regarding their finances, automobile, home, business and anything else that is of value to them. To contact a specialist at The Holguin Agency, call (817) 609-8051.