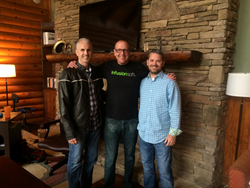 The surprise visit of Infusionsoft's Kirk Masters and Cory Snyder helped the team at GetUWired, the #1 Infusionsoft Certified Partner, to grasp the true benefits of Infusionsoft for small business owners.
(PRWEB) April 27, 2015
Infusionsoft's Kirk Masters and Cory Snyder took a red-eye flight from Arizona on Friday, April 17, to surprise the GetUWired team with an impromptu visit.
Infusionsoft leaders visit the #1 Infusionsoft Certified Partner
Infusionsoft International Partner Sales Manager Kirk Masters called GetUWired's Director of Business Development Dobbin Buck on the night of April 16 and told him that he and some others had been talking about GetUWired and Infusionsoft's great relationship with the company and the fact that GetUWired is Infusionsoft's #1 Certified Partner, but that they had never been out to see the GetUWired operation in person. So, Masters said, they decided, on a whim, to fly out to surprise the GetUWired team with a visit.
Masters and Snyder make personal connections
Masters and Sales Manager - Partner Sales Cory Snyder arrived at the GetUWired headquarters mid-morning and was given the cabin grand tour. The two Infusionsoft visitors made a point to visit each department and make a personal connection with each employee.
The real benefits of Infusionsoft
At lunch, Masters talked to the staff about the real benefits of using Infusionsoft. He made the point that using a CRM software that's full service and effective means not only more sales and time savings, it also means a better quality of life. By giving business owners more time to spend with their families and more security in their businesses, Masters said the real benefit to using Infusionsoft is the peace of mind that comes with a secure business and a better work/life balance.
The GetUWired team is grateful to Infusionsoft for sending two of its best all the way to Georgia for a few hours to meet and teach the staff more about Infusionsoft's powerful capabilities.
For more information, contact GetuWired at 877-236-9094 or visit http://www.GetUWired.com today.