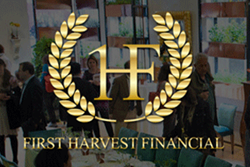 Tampa, Florida (PRWEB) April 28, 2015
First Harvest Financial is making quick strides and impressions as a leading source for advice to legal medical cannabis companies. With its rapid growth and success in providing consulting and strategic planning to start-ups and entrepreneurs, First Harvest Financial hired new strategic executives to better serve the industry.
Wall Street veteran, Kevin Gillespie, has handled the early stages of First Harvest Financial as President and Portfolio Manager. Due to early success and achievement, First Harvest Financial has engaged new team members with many years of investment banking experience and compliance.
New Chief Operations Officer, Michael Toups, joined First Harvest Financial, bringing with him over 25 years' experience. Toups' former experience is leading diverse, private and publicly traded companies to profitability in a global marketplace. In addition, Toups provides international business, finance, and accounting savvy to achieve effective leadership and overall company success. As a strategic thinker and self-starter, managing stakeholders worth over $500 millon, Toups' success working for companies such as Peak Crown Design, Nork Lighting, Midtown Partners & Co., Longwei Petroleum, Alternative Investments, and China Bilingual Technology & Education – will help propel the success of First Harvest Financial.
New Chief Financial Officer, Lloyd Ross, joined First Harvest Financial with great experience in financial leadership and vision. Having received his BBA in Accountancy and MBA in Finance from the University of Memphis, Ross' strong financial expertise will enhance the services of First Harvest Financial to its industry. Ross served prominent public and smaller private organizations in financial services. Ross dealt with approximately $1 billion of engagements involving mergers, IPO, acquisitions, divestitures and turnarounds that earned him a high status profile as top leader in his field. Ross represented close to 500 clients nationwide in various litigation support, capital procurement, due diligence and interim CFO leadership.
First Harvest Financial is foundationally partnered with talented leaders, with extensive operating experience and deep space knowledge.
The team has successfully led organizations, in both challenging turnaround as well as high growth environments within marketing, finance, technology, consulting, and strategic business services.
First Harvest Financial is strategically positioned to be the premier leader in providing business consulting and advice to companies in the legal medical marijuana industry. First Harvest's vision to connect professionals to enter and capitalize on growing and creating therapeutic cannabis-based solutions, is taking giant leaps into improving how legal medical cannabis advocates and visionary entrepreneurs access information, connect, communicate online.
First Harvest's power team of professionals together has a combined 75+ years business experience with 30+ industry partners to foster and bring together exceptional people and their ideas with the proper funds and support to reach long-term success.
For media inquires or to schedule an interview, call 1-888-217-5840 or email info(at)blacktoromedia(dot)com.
About First Harvest Financial
First Harvest Financial, Inc. works directly with those professionals looking to strategically enter and capitalize on growing and creating therapeutic, cannabis-based solutions in today's marketplace. The firm provides a platform for legal cannabis start-ups to interact with corporate executives, serial entrepreneurs, and technology accelerators. For more information, please visit: http://www.firstharvestfinancial.com/