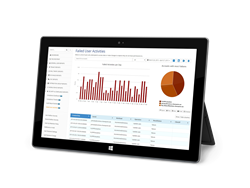 Cogmotive has a proven track record of developing automated Office 365 reporting, and we look forward to seeing the solutions they build with the Office 365 Management Activity API
London, UK (PRWEB UK) 29 April 2015
Cogmotive, a leading provider of Office 365 reporting solutions, announced today its participation on a pre-release program for the new Office 365 Management Activity API. Cogmotive are leveraging the API to develop a powerful audit and compliance tool that will provide much needed visibility into the otherwise black box environment of Office 365, Microsoft's leading cloud-based productivity suite. The API provides access to Office 365 activity logs across user, admin and policy actions, and enables these logs to be used as security and compliance signals.
Cogmotive was selected by Microsoft as one of a handful of companies to get early access to a pre-release of the Office365 Management Activity APIs to develop innovative products that demonstrate the API's capabilities.
"Cogmotive has a proven track record of developing automated Office 365 reporting, and we look forward to seeing the solutions they build with the Office 365 Management Activity API," said Nagesh Pabbisetty, Partner Group Program Manager, Office 365 Information Protection, at Microsoft.
Cogmotive Director and co-founder Alan Byrne said the tool will help customers who use Office 365 for the flexibility and collaboration it offers, and who also need a record of activities occurring in their cloud environment.
"Office 365, as with all cloud-based applications, can be a black box that gives Compliance Officers and IT Administrators limited visibility of user activities. Our customers have told us that they need a lot more flexibility and interactivity with reports, such as the ability to create custom dashboards, and the ability to detect and investigate anomalies. Cogmotive provides such reports, dashboards and visualizations, accessible from any internet connected PC," said Byrne.
"Leveraging the Microsoft Office 365 Management Activity API, customers will be able to use our tool to reduce risks and increase visibility of what's happening in their cloud environment.
Cogmotive's new tool will collect data for customers on all their employees' Office 365 activities and analyse behaviours to help security officers prevent and respond to incidents. Data will be stored securely for as long as the customer requires to enable them to meet audit and compliance requirements.
Cogmotive's flagship Office 365 Reports product was one of the first of its kind on the market and filled a much-needed gap in distilling complex Office 365 usage data into meaningful and actionable reports. The product is currently used by customers across the globe to manage more than 2 million Office 365 seats.
Cogmotive is currently accepting expressions of interest from customers looking for a security and compliance tool to participate in testing of the new product prior to its release. Visit https://www.cogmotive.com/compliance to register your interest.