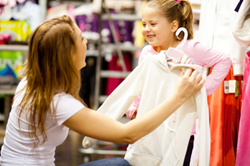 When it comes to saving money, nearly two-thirds of shoppers will seek savings on their Mother's Day purchase.
Windsor, Colo. (PRWEB) April 28, 2015
With Mother's Day around the corner, consumers are reflecting on the financial lessons learned from their mothers. According to findings from the Mother's Day Shopping and Savings Survey released today by CouponSherpa.com, the leading source for in-store, online and mobile coupons, over half (54%) of survey respondents said their mom influenced how they spend money. A little less than half (49%) give credit to their mothers for teaching smart-shopping strategies, like using coupons, comparing prices and searching for sales.
In keeping with Mom's sage advice, over half (51%) of respondents find price to be an important factor when making a purchase for Mother's Day. Nearly eight in 10 shoppers plan to spend about as much as they did last year, with 65% limiting purchases to $50 or less.
Thrifty Gifting
When it comes to saving money, nearly two-thirds (64%) of shoppers will seek savings on their Mother's Day purchase. Using a coupon is the most popular method (26%), followed by shopping the sale racks (16%), making a gift (9%) and buying a daily deal (8%).
"These days, consumers are savvier than ever and know they have options for saving money on a Mother's Day gift," says Coupon Sherpa's Savings Expert Kendal Perez. "Retailers understand that shoppers expect a deal and are already advertising savings of up to 40% off popular gift items including flowers, jewelry, gourmet treats and more."
Online vs. In-Store
The majority of respondents will shop in a store for Mother's Day, with 63% preferring brick-and-mortar shops to online retailers. Of those shopping in-store, one in four will use an in-store coupon and nearly 20% will search sale racks and clearance sections for the perfect gift.
The in-store experience isn't for everyone, however: one in three consumers will shop online for Mother's Day, with over half (54%) of respondents valuing free shipping over other online promotions. 34% of online shoppers will seek coupon codes to take money off their order.
More online shoppers plan to spend between $51 and $100 on their Mother's Day purchase compared to in-store shoppers. However, online shoppers are also more likely to use a coupon (34%) to save money than in-store shoppers (22%).
Gender Influences
When shopping for Mother's Day, women have a bigger appetite for bargains than men. 59% of women plan to look for a discount compared to 39% of men, and nearly half (48%) of women consider saving money a priority versus less than a third (31%) of men. Additionally, more women (30%) than men (22%) plan to use coupons, while fewer men (11%) will seek out sale items compared to women (20%).
"Even if searching for discounts doesn't come naturally, there's no sense in paying full price for anything," continues Perez. "Shoppers can easily find online and in-store savings on our Mother's Day Coupons page."
For additional survey results, including insight into favorite Mother's Day gifts, visit the blog at CouponSherpa.com.
About Coupon Sherpa
Coupon Sherpa (http://www.couponsherpa.com/) is the leader in mobile and in-store savings, offering coupons that actually work for thousands of retailers, restaurants, grocery stores and more. With the Coupon Sherpa mobile app, shoppers can quickly find and redeem in-store coupons directly from their iPhones or Android smartphones. With thousands of coupons and promo codes verified weekly by a staff of dedicated coupon specialists, CouponSherpa.com is the premier destination for all things savings.
About the Survey
Coupon Sherpa's Mother's Day Shopping and Savings Survey was conducted online between April 8 and April 15, 2015, using a SurveyMonkey Audience of 1,501 U.S. adults. This survey has a margin of error of plus or minus 2.6 percentage points.