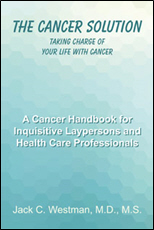 We Are Not Winning the War on Cancer
Madison, Wisconsin (PRWEB) May 15, 2015
John Chancellor reviewed Dr. Jack Westman's book The Cancer Solution: Taking Charge of Your Life with Cancer. He found that Dr. Westman has taken a very thorough look at cancer – from the way it is defined, to the way it is currently treated to the way it should be treated.
Dr. Westman is a psychiatrist, not an oncologist; however, he writes from firsthand experience. His wife was diagnosed with breast cancer in 1978 and eventually died from it in 2012. Dr. Westman was a caregiver and did extensive research on the overall treatment protocols of the various types of cancer.
Chancellor suggests that his book will be of great interest to any patient who has been diagnosed with cancer or anyone who is an advocate or caregiver for such a patient. Patients and their families really need to be proactive in their care. This book provides the information and tools needed to make better informed decisions about choosing a treatment path.
Dr. Westman also explains the major groups of cancer and discusses the three major treatment approaches – surgery, chemotherapy and radiation. He draws extensively on the research of others. His findings are pretty sobering. Lots of money is being spent on cancer research without proportional benefit to patients. This is in large part because the approach to research is based on killing cancer cells rather than on preventing and stopping their formation through the process of neoplasia.
While Dr. Westman writes as a well-informed researcher, his message is straightforward and easy for laypersons to understand. He discusses other approaches patients can take to improve their chances of actually winning their war on cancer.
Chancellor sees this book is an excellent source of information. It calls to task the entrenched way cancer is being treated. Dr. Westman gives excellent guidance and tools for anyone dealing with the diagnosis of cancer. Everyone should avail tehmselves of the information in this book and keep it handy – odds are it will be needed.