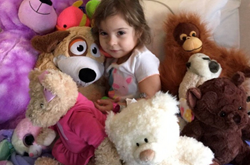 We cannot imagine the devastation these young parents felt seeing their baby girl go through something as painful as chemotherapy, especially for a little three-year-old girl. The story of the challenges faced by Ava and her family has truly touched us.
Fort Worth, TX (PRWEB) April 28, 2015
With a new charity program in the Fort Worth, TX area, Dusty Wallace Insurance has joined efforts with its community to support Ava and her family, and announced that they will be raising funds to help alleviate the numerous medical bills due as a result of Ava's cancer treatments. At the young age of three, Ava has undergone extremely painful medical procedures such as chemotherapy, blood transfusions and a bone marrow transplant. Unfortunately she still faces a challenging journey having to continue chemotherapy and other medical treatments. To support this cause, donations can be made at http://www.dustywallaceinsurance.com/Avas-Journey_16_community_cause.
Utilizing its own resources and seeking the help of its own network of customers and business partners, Dusty Wallace Insurance marches on to ensure customers, friends, family and neighbors are always in good hands. The agency just recently launched the master charity program of which the current campaign is part of, electing every 30-60 days a new individual, organization or family in need to receive their support.
The agency will promote the current campaign over the course of the next 60-90 days, through its social media channels, email communications, and monthly electronic and print magazines, delivered to thousands of households in Central Texas. Our Hometown magazine reserves a full page to feature the campaign and details of the cause. The electronic Flipbook version of the current issue can be accessed here: http://www.dustywallaceinsurance.com/Our-Hometown-Magazine_32
To join Dusty Wallace Insurance in supporting little Ava and her family, donors are encouraged to visit http://www.dustywallaceinsurance.com/Avas-Journey_16_community_cause and share the page with their friends and family. Contributors may be acknowledged for their donations through the agency's monthly magazine.
Once the current campaign is over, Dusty Wallace Insurance will continue to work closely with Ava's family as well as nonprofit organizations in the area, to make sure resources are directed to capable hands that can help better the local community, one family or person at a time. Information regarding past and current campaigns supported by the Agency can be found http://www.dustywallaceinsurance.com/community-cause. More information about Dusty Wallace Insurance is available at http://www.dustywallaceinsurance.com.
About Dusty Wallace Insurance
Serving from their office in Flower Mound, TX, Dusty Wallace Insurance is committed to bringing local communities an insurance agency that understands their needs. Taking pride in its team of professionals, Dusty Wallace Insurance works with carriers to assemble a variety of products and services for its customers. From all of the products a typical consumer needs (home, auto, boat, ATV, etc.,) to all financial services products and tools (retirement, savings, long term care, disability, etc.,) and business insurance (liability, building, auto) to workplace and individual benefits (accident, critical illness, cancer, disability, life), Dusty Wallace Insurance covers all the bases for insurance needs in the Central Texas area.