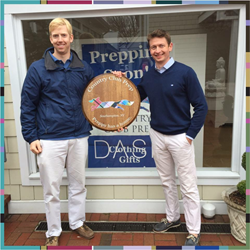 If we get the traffic we are hoping to see this summer in the pop-up shop, we look forward to turning the store into a permanent installation.
Southampton, N.Y. (PRWEB) April 28, 2015
Country Club Prep, the one-stop online retailer for preppy apparel, is setting up shop in the town of Southampton, New York for the summer of 2015. The e-retailer that offers more than 100 preppy brands online, will open its third brick and mortar location at 64 Jobs Lane, Southampton, the building formerly leased by Kourtney Kardashian and Khloe Kardashian for their DASH pop-up shop last summer during the filming of "Kourtney & Khloe Take The Hamptons." Country Club Prep will bring its curated collection of preppy fashion to one of the fountainheads of Prep, presenting a unique shopping experience for Southampton locals and summer vacationers alike.
"Opening shop in Southampton made sense for a few reasons; the first is our major online presence in New York. The second is our appreciation for the historic ties traditional preppy style has to the region," said Stephen Glasgow, co-founder of Country Club Prep. "If we get the traffic we are hoping to see this summer in the pop-up shop, we look forward to turning the store into a permanent installation."
The shop will act as a revolving showcase store featuring one of Country Club Prep's best selling men's and women's brand each month, supplemented with other preppy staples like Jack Rogers, Julie Vos and Smathers & Branson needlepoint products. Located at 64 Jobs Lane in Southampton's beautiful historic district, Country Club Prep will cater to the customers who frequent the central shopping area surrounding Main Street and Jobs Lane. The store will also host fun social gatherings throughout the summer to benefit the community and celebrate the 375th anniversary of Southampton.
"Summers in the Hamptons are widely-known for their major events, and Country Club Prep plans to join right in on the fun," said Amanda Caldwell, Prep-in-Chief, who will be living in Southampton for the summer to mange the pop-up shop. "Whether it's happy hour on Friday or a monogramming party on Saturday, there will be non-stop excitement at the store."
While Country Club Prep has found great success online, the founders realized there was opportunity to shake up the traditional brick-and-mortar space. Following cyber-to-cement expansions into Charlottesville, Virginia, in August 2014 and then Lexington, Kentucky, shortly thereafter, the opening of the Southampton pop-up shop signifies a successful and replicable model for the retailer, and will precede continued expansion in even more college and resort towns over the next year.
To learn more about the Southampton grand opening visit CountryClubPrep.com or 64 Jobs Lane, Southampton, New York, on May 19, 2015 for the Grand Opening. Also follow us at @CCPrep, @CCPrepSouthampton and on our Southampton Facebook page for the latest updates on events at the store.
About Country Club Prep
Country Club Prep is a one-stop shop for all preppy clothing and accessories, offering favorite all-American brands like Jack Rogers, Ralph Lauren and Lilly Pulitzer, plus up-and-coming designers like Southern Proper, Southern Tide, Lauren James, Mahi Gold and Sail to Sable. In addition, Country Club prep carries college spirit and Greek apparel and accessories. For more information, visit http://www.CountryClubPrep.com and follow @CCPrep on Twitter and Instagram.