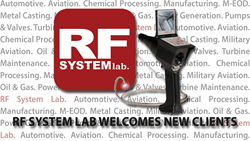 Traverse City, MI (PRWEB) April 28, 2015
RF System Lab, a world-wide leader in remote visual inspection and manufacturer of the VJ-Advance (VJ-ADV) video borescope, would like to announce new clients from the month of March. The newest owners of the VJ-ADV come from multiple industries, including automotive, aviation, and oil & gas.
One of RF System Lab's newest customers in the aviation industry is Island Helicopters. This Hawaiian rotorcraft company offers both a Kauai Grand Tour and an exclusive Jurassic Falls (made famous by the Jurassic Park movies) tour. Because their helicopters must make multiple trips each day with civilians on board, they must ensure that all parts are in top-notch condition. The need for quality checks done with complete confidence is why Island Helicopters chose the VJ-ADV as their inspection tool. With its lightweight portability and easy-to-use joystick-controlled articulation, the VJ-ADV was an obvious choice for making sure passengers are safe on their scenic tours.
RF System Lab acquired another aviation customer in March, AeroMaritime. AeroMaritime is a Rolls-Royce Authorized Maintenance Repair & Overhaul Center. The company also performs Pratt & Whitney PW200 series field service, making the VJ-ADV a great tool for their inspection needs. The four-way articulating 3.9mm VJ-ADV fits easily through the Pratt & Whitney guide tube, which greatly assists with MRO inspections.
RF System Lab is proud to have Harley Davidson, a major American motorcycle company, as a new customer in the manufacturing industry. Harley Davidson is utilizing the VJ-ADV for engine inspections. More specifically, the motorcycle company is troubleshooting problems by filming injectors while engines are running in different conditions. The VJ-ADV's 360 articulation, slim insertion tube diameter, and on-board video recording capabilities – offered at an affordable price point – were big factors in the purchasing decision.
RF System Lab would like to thank these new clients, as well as many additional clients not listed here. Companies interested in demoing the VJ-Advance video borescope can sign up for RF System Lab's no-cost, no-obligation demo program. For more information on RF System Lab, please visit the company website or call 855-787-6966 to speak with a borescope expert.