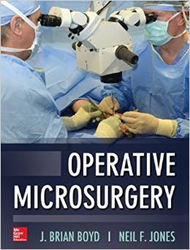 Manhattan Beach, CA (PRWEB) April 29, 2015
Dr. J. Brian Boyd, distinguished plastic and reconstructive surgeon, released his latest book, Operative Microsurgery, which he co-edited with renowned hand surgeon Dr Neil F. Jones, on January 12, 2015. The book is designed to facilitate Plastic, ENT, Hand and Orthopedic surgeons master both common and difficult microsurgery procedures and includes step-by-step illustrated guidance. It's full-color procedural guide focuses on microsurgery of the upper and lower limbs, nerves and brachial plexus, head and neck, and breast and trunk. Operative Microsurgery is a clear, comprehensive, and authoritative textbook, enabling the reader to:

Acquire wisdom from some of the most brilliant, respected minds in microsurgery
Garner hands-on, working knowledge of specific microsurgery procedures
Participate in a more active learning process through the full-color photographs and illustrations
Dr. J. Brian Boyd has honed his microsurgery skills for over 25 years, and his particular interests include breast reconstruction and aesthetic surgery. His knowledge and expertise make him a leader in the latest muscle-sparing free flap breast reconstruction techniques.
In 2005, Dr. J. Brian Boyd joined the full-time faculty at UCLA. He is currently Professor of Surgery at the UCLA David Geffen School of Medicine and Chief of Plastic Surgery at Harbor-UCLA. He is a board-certified plastic surgeon who not only practices and teaches but is also an associate editor for two major U.S. plastic surgery journals. He has over 120 publications in the scientific literature.
Dr. J. Brian Boyd serves Manhattan Beach, Hermosa Beach, Redondo Beach, Long Beach, Torrance, Palos Verdes, and the surrounding South Bay, Los Angeles areas. He performs a variety of enhancement and reconstructive surgeries, including:

Breast augmentation
Breast reduction
Breast reconstruction
Facelift
Rhinoplasty
Secondary rhinoplasty
Body contouring
Brazilian Butt Lift
If you would like to schedule a consultation with Dr. J. Brian Boyd, contact his office at 310.295.2287.
Media Contact:
Anna M. Powers
P: (909) 758-8315
F: (909) 758-8384
anna(dot)powers(at)plasticsurgerystudios(dot)com