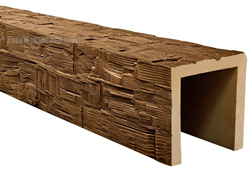 In stock, these beams match the colors and texture of our Custom Rough Hewn beams.
Deer Park, NY (PRWEB) April 28, 2015
FauxWoodBeams™, a top resource for realistic-looking faux wood beams, responds again to customers' requests for quality decorative beams by adding Quick Ship Rough Hewn beams to its extensive selection of beams. "In stock, these 3-sided beams match the colors and texture of our Custom Rough Hewn beams, and can be shipped right away, said Steve Barron, president of FauxWoodBeams.com.
"The Rough Hewn beam is one of our most popular styles, so adding the Quick Ship option gives our customers the added convenience of fast shipping and affordability for the same great, durable faux wood beams."
Molded in one piece, these U-shaped beams are made of a high-density polyurethane material that's lightweight and crafted from master molds made of authentic hand hewn wood, for an impressive natural look.
Offered in the same five color styles as the Custom Rough Hewn beams, the Quick Ship Rough Hewn beams can be easily matched with existing designs that use the Custom Rough Hewn beams. The color styles include the popular Walnut, Cedar, Oak, Java, and Unfinished. The Unfinished option is ready for painting or staining in a customer's desired finish.
These new beams are available in the 24 most popular sizes, as well. The lengths offered include 8', 10', 16', and 20'. For the look of solid timber, the 8' and 10' beams give you the option of having one end cap. The 16' and 20' beams will always have one end cap, which can be cut off, according to a customer's preference. This makes buying for a project simple and convenient.
The three-sided beams also provide an easy way to hide unsightly pipes, wires, and cords.
The light weight and convenience of the Quick Ship Rough Hewn polyurethane beams allows for easy installation in virtually any setting. The FauxWoodBeams.com website also has free instructional videos that guide the customer through installation step-by-step.
FauxWoodBeams.com offers a wide range of other decorative products including planks, mantels, braces, corbels and vigas, making it easy to customize projects to suit your own style.
For more information about faux beams, visit http://www.fauxwoodbeams.com.
About FauxWoodBeams.com:
FauxWoodBeams.com is the leader in the industry of polyurethane wood beam products, ceiling panels, corbels and architectural products. It is part of the family-owned business, Barron Designs, with more than 30 years of experience in the home improvement industry. For more information, visit http://www.fauxwoodbeams.com.