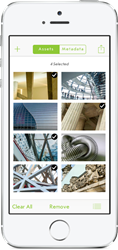 By combining Portfolio Flow with Portfolio, customers have a comprehensive solution for organizing, sharing, searching and managing their digital assets both inside and outside the office.
(PRWEB) April 28, 2015
Extensis® today released updates to Portfolio Flow ™, its mobile app for bringing assets created on devices back to Extensis Portfolio® with consistent, searchable metadata attached. Available now for iPhone®, iPad®, iPod touch®, and Android™ 4.x+, Portfolio Flow can be downloaded for free at the App Store℠ and Google Play™ Store.
Introduced in December 2013, Portfolio Flow makes it quick and easy to upload assets directly from mobile devices to Extensis Portfolio, the digital asset management solution used by customers across the globe. The new updates to Portfolio Flow offer a streamlined user interface for iOS X and Android, allowing users to select and tag more efficiently.
By combining Portfolio Flow with Portfolio, customers have a comprehensive solution for organizing, sharing, searching and managing their digital assets both inside and outside the office. Portfolio Flow is particularly helpful for industries that have a large base of employees who often work in the field or offsite, such as the government, military, creative, sports, retail, education, construction and architecture. With Portfolio Flow, pictures, videos and audio files no longer get stuck on a user's mobile device.
Portfolio Flow is now available to Extensis Portfolio Enterprise and Extensis Portfolio Professional customers free of charge.
More information can be found at http://www.extensis.com/digital-asset-management/portfolio/mobile/
About Extensis' DAM Solution: Portfolio
With the explosion of digital assets and media over the past decade, companies across the globe are facing an increasing issue with how to keep them organized, accessible and everyone using the right versions. Inefficiencies are growing, with companies losing time and money trying to locate files. Portfolio ensures users have immediate access to the correct files in the desired format in a central location. It is the only digital asset management solution that is affordable, simple to use, can be setup within a day, and provides everything organizations need to get started right out of the box. As a standards-based platform that works with other systems and existing workflows, Portfolio provides a single place for teams to locate important files with consistent metadata information using a web browser or Mac and Windows desktop applications. Portfolio is ideal for anyone with large collections of images, videos, and marketing collateral.
About Extensis
Celebrating more than two decades in business, Extensis® is a leading developer of software and services for creative professionals and workgroups. Their solutions streamline workflows, securely manage digital assets and fonts, and control corporate typographic branding. Used by hundreds of Fortune 5000 companies, Extensis' award-winning server and desktop products include: Portfolio® for digital asset management, Universal Type Server® for server-based font management, and Suitcase Fusion® for single-user font management. Founded in 1993, Extensis is based in Portland, Oregon, and the United Kingdom. For additional information, visit http://www.extensis.com
© Celartem, Inc. d.b.a. Extensis All rights reserved. Extensis and the Extensis logo mark, Suitcase Fusion, Portfolio Server, Portfolio NetPublish, Portfolio Flow and Universal Type Server are trademarks or registered trademarks of Extensis in the United States of America, Canada, the European Union and/or other countries. This list of trademarks is not exhaustive. Other trademarks, registered trademarks, product names, company names, brands and service names mentioned herein are property of Extensis or other respective owners.
Apple, the Apple logo, iPhone, and iPod touch are trademarks of Apple Inc., registered in the U.S. and other countries. App Store is a service mark of Apple Inc.
Android and Google Play are trademarks of Google Inc.