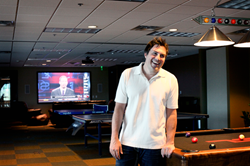 Without bees, we have no produce. If this proves to work as researchers believe it can, one simple change can virtually eliminate one of the biggest threats to the human race in the modern age
Scottsdale, AZ (PRWEB) May 01, 2015
The honeybees are dying off, creating a serious risk for humans as well as animals of all species, but the Internet of Things may have a solution. Yahoo! recently published an article outlining research performed through the University of Minnesota that may have found an Internet of Things device that could prevent the bee die-off. Jason Hope, long-time advocate for the benefit of the Internet of Things growth, indicates that this potential shows the incredible power of the growing connectedness of modern society.
According to the April 22 article from Dan Tynan entitled "How the Internet of Things Could Save the Bees," one theory about the bee die-off is that a tiny mite that lives inside honeybee colonies, infecting them with a virus while feeding off of them, could be the reason for this sudden and catastrophic decline. Researchers at the University of Minnesota created a device they call the Eltopia MiteNot, which uses a circuit board camouflaged to blend in with the honeycomb to destroy the mites. Beekeepers can install one small MiteNot frame inside the hive, and the board will monitor environmental data and transmit it via 3G to the cloud-based BeeSafe application.
When the environment is right for the female mites to begin to lay their eggs, but before the males have fertilized them, the device is able to heat the environment slightly so that the male mites are sterilized, and reproduction does not occur. This is all done without harm to the bees or the use of dangerous pesticides.
"This is truly ingenious technology that taps into the power of the Internet of Things for an application that has far-reaching benefit," says Jason Hope. "Without bees, we have no produce. If this proves to work as researchers believe it can, one simple change can virtually eliminate one of the biggest threats to the human race in the modern age."
The device is still in the testing stages, but the article indicates it could be ready for market as early as fall of 2015.
About Jason Hope
Jason Hope is a philanthropist an successful entrepreneur who resides in Scottsdale, AZ. Using his resources, he supports research and development into the Internet of things and the benefits it provides to the human race. Learn more about his work at http://www.jasonhope.com.