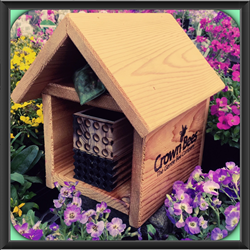 Show both mom and Mother Nature you care by forgoing traditional flowers in favor of a gift that will help the planet.
Seattle, WA (PRWEB) April 29, 2015
Mother's Day is a time to celebrate the queen bee of the family. This year, show mom she's the bees' knees with the Crown Bees' Mother's Day kit found exclusively on Indiegogo.
Although the kit retails for $125, the Indiegogo special is priced at $85 — leaving you with an extra $40 to take mom out for brunch.
Ideal for anyone interested in gardening and nature, the Mother's Day kit includes a mini bee cabin, wooden trays, 100 leafcutter bees, a Humidibee and a Mother's Day card.
Solitary bees, like leafcutter bees, are super pollinators. They don't make honey and instead spend all their energy pollinating fruits, vegetables, nuts and flowers. Not only will mom enjoy watching these gentle bees in the home garden, she won't have to worry about the safety of children and pets because they rarely sting.
"When it comes to solitary bees, every female is a queen," says Dave Hunter, CEO of Crown Bees. "Show both mom and Mother Nature you care by forgoing traditional flowers in favor of a gift that will help the planet."
In addition to the cabin and supplies, the kit also includes an online shout-out, a bee sticker and an e-book about how to raise native bees. Mother's Day kits ordered by May 3, are expected to arrive by May 10.
The Mother's Day kit is part of Crown Bees efforts to build a network of Bee Boosters through its Indiegogo crowdfunding campaign. The network of Bee Boosters will support and raise native bees that can later be shared with local farmers. The network will exist on an interactive website called Bee With Me.
"Without bees, we wouldn't have our favorite foods such as almonds, blueberries and beer," says Hunter. "By increasing the population of native bees in North America, we help take the stress of honey bees and secure our future food supply."
For more information about Crown Bees or to join the Bee Booster network, visit crownbees.com.
Crown Bees is a leading provider of solitary and native bees along with bee-safe nesting products. Serving the retail and commercial markets since 2008, Crown Bees has focused on supplementing the declining honey bee population. Its unique Bee Buyback program helps gardeners complete the bee harvesting circle in an easy and efficient way. Find out more at http://www.CrownBees.com.