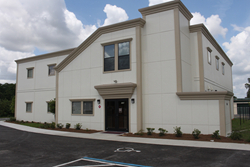 Cardno is on the cutting edge in assisting underserved communities in increasing access to health and health care.
CLEARWATER, FL (PRWEB) April 29, 2015
Professional infrastructure and environmental services consultancy Cardno is a leader in the Brownfields to Healthfields movement across the United States.
Presented to the Federal Interagency Working Group on Environmental Justice:
Director Brownfields and Economic Development Miles Ballogg presented "Florida Healthfields Successes" to the Federal Interagency Working Group on Environmental Justice (EJ IWG) in Washington D.C. on March 26, 2015. The EJ IWG guides, supports and enhances federal environmental justice and community-based activities and is comprised of 17 federal agencies and White House offices. Miles was honored to be asked to make the presentation and hopes to convince the U.S. Environmental Protection Agency (EPA) to start a formal Healthfields program.
Organized a Pioneering Healthfields Initiative:
Cardno recently organized a unique collaboration of federal, state, city, and nonprofit organizations called the Arizona Healthfields Initiative, one of only a few similar efforts anywhere in the U.S and a first-of-its-kind program in Arizona. The stated goal of the initiative is the redevelopment of abandoned, underutilized, and contaminated properties, also known as "brownfields," for improvement of community health by establishing health clinics, community gardens, open and green spaces, farmers markets, and other projects that promote health, also known as "healthfields." Read more: http://ow.ly/KAuPp.
Provided Extensive Brownfields to Healthfields Services:
Mulberry Health Center
The City of Mulberry, Florida, has long been impacted by the effects of its history as a phosphate mining community and had struggled to provide a medical facility for its residents. After receiving an $80,000 health center planning grant from the U.S. Department of Health and Human Services / Health Resources and Services Administration (HRSA), the city partnered with the Central Florida Regional Planning Council (CFRPC) and Central Florida Healthcare Inc. (CFHC) to build a 5,000-square-foot, federally-qualified health care clinic.
Cardno was responsible for assisting with brownfields reuse planning and environmental site assessment, and performing all site civil engineering for the property that the new Mulberry Health Center was built on. We also wrote a $1M Brownfields Coalition Assessment Grant for the Central Florida Regional Planning Council, whose funds were used for the assessment of the Mulberry site.
This project is now used as a national example of how communities can partner with regional planning groups to build federally qualified health care centers. The clinic opened April 6th and a ribbon cutting was held on April 8th, where Miles Ballogg was asked to say a few words. "We know that these successes not only provide models for other communities struggling with access to health care but also provide hope and vision for communities that are medically underserved and without access to things that many take for granted like fresh healthy foods," said Miles. "This hope and vision leads to perseverance and partnerships that result in celebrations like the event in Mulberry." Read more about Mulberry in an article from The Ledger.
Lacoochee Health Clinic and Center
Premiere Health Care opened the Lacoochee Health Clinic on March 25, 2015. The clinic is located on a brownfields site where Cardno has completed extensive environmental assessment, geotechnical, remediation and brownfields public outreach. We also completed a health impact assessment on the Lacoochee Community Center site through Pasco County's Brownfields Program, and wrote a $1M EPA Brownfields Coalition Assessment grant that was awarded to Pasco County.
"Cardno is on the cutting edge in assisting underserved communities in increasing access to health and health care," said Cardno's South Operations Manager and Senior Principal Steve Howarth, PE. "We are committed to the Healthfields approach, which can be an effective tool in battling health disparities in environmentally overburdened communities. This allows Cardno to maintain leadership in the national EPA Brownfields program and also allows for Cardno to broaden its role in traditional Health and Health Care related markets."
####
About Cardno: Cardno is an ASX200 professional infrastructure and environmental services company, with expertise in the development and improvement of physical and social infrastructure for communities around the world. Cardno's team includes leading professionals who plan, design, manage and deliver sustainable projects and community programs.
Cardno is an international company listed on the Australian Securities Exchange [ASX:CDD].