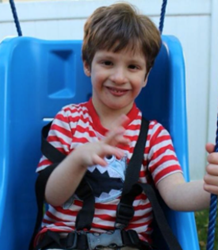 We are very excited to work with another amazing organization and help the children here in our very own community. As a child, it is a right of passage to have fun riding bikes with family or friends, and a disability should not prohibit that.
New Hyde Park, NY (PRWEB) April 28, 2015
With a new charity program in the New Hyde Park, NY area, McNicholas Insurance Agency has teamed up with Share The Voice to support its program benefitting children with disabilities and announced that they will be raising funds to help support this local organization. Share The Voice's mission is to raise awareness of the cognitive, physical, and psychosocial benefits these therapeutic tricycles provide to the overall wellbeing of children with special needs. Unfortunately these tricycles are not covered by health insurance and can be quite expensive according to the child's unique needs. To support this wonderful organization, donations can be made at http://www.mcnicholasagency.com/Help-Jason-Ride-To-A-Better-Future-_12_community_cause
Utilizing its own resources and seeking the help of its own network of customers and business partners, McNicholas Insurance Agency marches on to ensure customers, friends, family and neighbors are always in good hands. The agency's first community strengthening initiative with the local Ronald McDonald House proved extremely successful, allowing the agency to raise $1000 in donations to provide food for the organizations current residents.
The agency will promote the current campaign over the course of the next 30-60 days, through its social media channels, email communications, and monthly electronic and print magazines, delivered to thousands of households in New Hyde Park, NY. Our Hometown magazine reserves a full page to feature the campaign and details of the cause. The electronic Flipbook version of the current issue can be accessed here http://www.mcnicholasagency.com/Our-Hometown-Magazine_39.
To join the McNicholas Insurance Agency in supporting Share The Voice, donors are encouraged to visit http://www.mcnicholasagency.com/Help-Jason-Ride-To-A-Better-Future-_12_community_cause and share the page with their friends and family. Contributors may be acknowledged for their donations through the agency's monthly magazine.
Once the current campaign is over, McNicholas Insurance Agency will continue to work closely with Share The Voice and other nonprofit organizations in the area, to make sure resources are directed to capable hands that can help better the local community, one family or person at a time. Information regarding past and current campaigns supported by the Agency can be found at http://www.mcnicholasagency.com/community-cause. More information about McNicholas Insurance Agency and Share The Voice are available at http://www.mcnicholasagency.com and http://www.sharethevoice.org.
About McNicholas Insurance Agency
Serving from their office in New Hyde Park, NY, McNicholas Insurance Agency is committed to bringing local communities an insurance agency that understands their needs. Taking pride in its team of professionals, the McNicholas Insurance Agency works with carriers to assemble a variety of products and services for its customers. From all of the products a typical consumer needs (home, auto, boat, ATV, etc.,) to all financial services products and tools (retirement, savings, long term care, disability, etc.,) and business insurance (liability, building, auto) to workplace and individual benefits (accident, critical illness, cancer, disability, life), McNicholas Insurance Agency covers all the bases for insurance needs in New Hyde Park, NY.