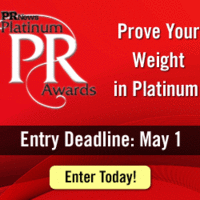 New York, NY (PRWEB) April 29, 2015
PR News' Platinum PR Awards salute the year's most outstanding communications initiatives and programs in the highly competitive and dynamic PR arena. The coveted awards set the industry benchmark for excellence across all areas of PR. The entry deadline is this Friday, May 1, 2015 at midnight ET and winners along with honorable mentions will be recognized in fall 2015.
For more information on the Platinum PR Awards, visit http://www.platinumprawards.com.
The Platinum PR Awards are open to all individuals and teams worldwide at for-profit and non-profit organizations including: corporations, PR firms, public affairs and IR agencies, publicity firms, associations, government, and NGO teams, and sole practitioners. Vendors are also eligible to compete on behalf of clients.
The winners of the Platinum PR Awards are from corporations, agencies and nonprofits large and small who took chances, made tremendous strides and understand the power of public relations.
To enter online, http://www.platinumprawards.com/.
Winners and honorable mentions will be awarded in the following categories:

Anniversary
Annual Report
Blog
Branding
Cause-Related Marketing
Community Relations
Crisis Management
Employee Relations
Event Marketing
External Publication (print or online)
Facebook Campaign
Financial/Investor Relations
Firm of the Year
-Large PR Firm of the Year
-Midsize PR Firm of the Year
-Small PR Firm of the Year

Global PR Campaign
Green PR Influencer Communications
Internal Publication (print or online)
Marketing Communications
Media Event
Media Relations
Multicultural Campaign
On a Shoestring Campaign
Online Communications
Online Press Room/Media Center
Podcast and/or Videocast
Press Release
Pro Bono Campaign
Product Launch
Public Affairs
PSA
Re-Branding/Re-positioning
Research & Measurement
Satellite Media Tours
SEM/ SEO Initiatives or Campaign
Social Media Campaign
Speeches
Trade Show/Event PR
Twitter Campaign
Video Program
Word of Mouth/Viral Campaign
WOW! Award
For more information, visit http://www.platinumprawards.com/.
PR News' Platinum PR Awards is a great opportunity to get recognized for your hard work and to shine the spotlight on the people driving your organization's success.
For questions regarding the Platinum PR Awards, contact PR News Marketing Coordinator Rachel Scharmann at rscharmann(at)accessintel.com. For sponsorship and exhibit information, contact PR News Senior Vice President & Group Publisher Diane Schwartz at dschwartz(dot)accessintel.com
PR News is a daily intellectual hub that serves the communications and marketing community at corporations, agencies and nonprofits. The PR News group focuses on honing and growing PR practitioners' skills in social media, crisis management, digital PR, measurement, employee relations, media training, CSR and writing through its flagship newsletter, webinars, conferences, awards programs, workshops and guidebooks. With the launch of its weekly newsletter over 70 years ago, PR News has remained dedicated to supporting the growth of communicators all while keeping them abreast of the latest news affecting the industry. For more information, please visit http://www.prnewsonline.com.