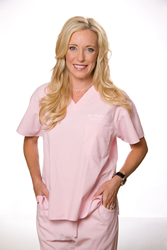 "It was a true honor to host some of the freshest new voices in media and get to know the ladies behind some of my favorite blogs." - Dr. Sherri Worth
Newport Beach, California (PRWEB) April 28, 2015
Recently #BALANCE2015:A Blogger Babes Event Celebrating Health, Wellness, Fitness, Fashion, and Beauty, was held at the Newport Beach home of celebrated dentist Dr. Sherri Worth.
Dr. Worth and Blogger Babes founder Heidi Nazarudin were on hand to welcome some of the most driven and respected content creators in Los Angeles for an afternoon of good conversation and sharing.
"I've been so impressed with the work that Heidi has done with Blogger Babes," said Dr. Worth. "It was a true honor to host some of the freshest new voices in media and get to know the ladies behind some of my favorite blogs."
Everyone felt welcomed and encouraged to mingle while they collaborated on new ideas and projects for their respective sites. The air was full of exceptional music provided by the beautiful and talented DJ Sweeshe (pronounced Swish) with audio gear courtesy of LAVA Production Rentals of Las Vegas. Delicious offerings of healthy dishes were on hand for the bloggers to sample thanks to Flexpro Meals, a gourmet meal delivery service focusing on serving healthy delicious meals to your door. The bloggers sipped ZICO Coconut Water, the perfect libation served poolside on this bright and sunny day in Newport Beach.
Throughout the event, the bloggers had access to exceptional lifestyle brands and their representatives. Many seized this opportunity to lay the foundation for upcoming articles and projects that highlight these companies and their products and services.
The Anti-Bullying Compassion Brands, famous for their celebrity collaborations, displayed their latest styles in apparel and jewelry. Guests also got an exclusive look at the brand new SMARTFit Band fitness tracker with Celebrity Trainer Shawnee Harkins on hand extolling the features and benefits of the latest innovation in wearable tech.
Dr. Sherri Worth created an oasis lounge for everyone to enjoy mini-facials courtesy of KO'AN Center of Santa Monica. Cosmetic touch-ups were provided by the artists of Blushington's of Newport Beach.
Special guest Author CL Gaber was present as she shared complimentary downloads of her new book Ascenders, the first of a trilogy and a perfect summer read (available on Amazon.)
All of these brands also sent a little something home with everyone in the festive gift bag. Additional brands featured in the gift bag were, Level Naturals Bath and Body products, Amrita Singh Jewelry and EBOOST energy shots.
About Dr. Sherri Worth
Dr. Worth is renowned for 20-plus years of exceptional work in cosmetic dentistry along with her warm and approachable bedside manner. She is most famous for her time spent on the hit reality television program "The Swan," where she worked her magic to match the inner beauty of each contestant to their lovely new exteriors. Her experienced team specializes in aesthetic and reconstructive dentistry, dental implants, and general dental services and her clients range from top celebrities to full-time moms, professional athletes, business professionals and models. Dr. Worth has been changing lives, one smile at a time.
Additionally, Dr. Worth has been a respected and sought-after source for countless television news segments and magazine articles, where she shares her love of dentistry and her passion for health and wellness.