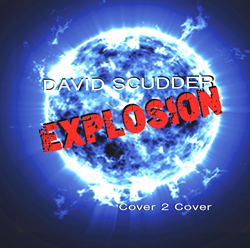 The world is my studio, it's a great way to capture magic
Sunnyvale, CA (PRWEB) April 29, 2015
This week TripleARadio.com features a selection from the David Scudder Explosion album, "It's a Man's World" with Simon Russell on vocals who performed as a vocalist and keyboardist with the James Brown Band. "This version would make James proud, Russell hits all the right notes on his vocal performance, I will always remember his dynamic recording session in his living room while holding his infant baby girl," said Sea.
David Scudder, a bass guitar player and entrepreneur from Pacifica, CA knew Stephen Sea was the right producer to hire for his album to create an adventure in sonic possibilities. "What began as a modest effort to record a few cover songs for a demo exploded into a much larger volume of time tested hits Scudder said, I found a wonderful community among all the musicians and vocalists on the album. My favorite song to play and record was, "Keep Me Hangin' On" with Tricia Greenwood on vocals."
"The world is my studio. I've captured the best performances in the most unlikely places, said Sea, Even the slightest "performance anxiety" that can occur when the record light comes on is alleviated when you're relaxing with friends around the coffee table exploring creative ideas. It's a great way to "capture magic."
As for this album, "Cover 2 Cover" nine remakes of classic hits that continue to bring meaning to the lives of millions of people, guest artist Garrick Davis gives a soulful vocal performance on the classic, "Unchain My Heart," with Rafael Valenzuela on guitar. "Run Away Train." showcases Sea's vocals, guitar and orchestration. "Tell Mama" with Tiffany Collier on vocals and Simon Govan Smith on guitar. "It's a Man's World," with Simon Russell on vocals and Sea on guitar. "Runaway Soul," with Sheryl Thirlwall on vocals and husband, David Thirlwall on guitar. "Six Days on the Road" with Stan Erhart on vocals and guitar, "Ring of Fire" with Steve Leighton Smith on vocals and Sea on guitar. "Need Your Love So Bad" with Gayle Sutherland on vocals and Sea on guitar. "Keep Me Hangin' On," with Tricia Greenwood on vocals and Sea on background vocals, all instruments and orchestration. Al Diaz on drums and David Scudder on bass guitar.
Sea is a seasoned producer, composer, musician, founder of Inertia Records and Broadcast media Tracks LLC serving the commercial broadcast industry licensing music for film, television, radio and multimedia for 20+ years. Credits to date on IMBD for music effects underscore and sound design for New World Pictures and Universal Films. As a composer for NovaStar Post in Hollywood Sea provided uncredited re-scores for over a hundred classic films for MGM, 20th Century Fox, Buena Vista / Disney and Sony pictures.
Scudder's album was recorded, arranged and produced with Avid ProTools delivering a brilliant variety of remakes written by some of music history's greatest songwriters. There are nine vocalists, five guitarists, two drummers and one bass player, the partridge in the pear tree would be Sea for his waveforms as a vocalist, multi-instrumentalist and orchestral arranger.
A video interview with Scudder and Sea appropriately titled,"The Making to Cover 2 Cover" is on YouTube,Facebook and Scudder's website.
The album is available on: DavidScudderExplosion.com, iTunes, Amazon, Spotify, InertiaRecords.com and for sync licensing, BroadcastMediaTracks.com