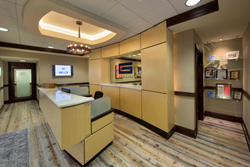 Having ample space and resources to accommodate our recent growth helps better cultivate employee and client relations, and further strengthen our company as a whole.
Fort Lauderdale, Fla. (PRWEB) April 28, 2015
Gulf Building LLC—South Florida's premier provider of commercial and custom residential construction management services—today announced it has moved to a newly expanded headquarters in Fort Lauderdale. The move comes on the heels of a tremendous year of success and the company's hiring of a multitude of new employees. Additionally, it marks Gulf Building's return to its original company headquarters, located on the fifth floor of the Valley National Bank Building at 633 South Federal Highway. The 10,000-square-foot office features direct elevator access and a more expansive layout to meet the needs of the more than 37 new employees hired by the company in 2014 as a result of an influx in new projects awarded to the longtime South Florida building and construction firm underway for 2015.
"We are excited to be back in our original space," said John Scherer, president and CEO, Gulf Building LLC. "Not only is it more conducive for employee-client collaboration; it also is a testament to our company's ability to overcome economic downturns through identifying and hiring the right people, and implementing new innovations and services to address current, ever-changing market needs. Having ample space and resources to accommodate our recent growth helps better cultivate employee and client relations, and further strengthen our company as a whole."
Gulf Building has consistently increased its revenues and net income since John Scherer took over the reins of the company as president and CEO in 2009. The company enters 2015 with a backlog of over $70 million in new work and a multitude of high profile commercial and custom-residential projects currently in the works. The financial growth and stability of Gulf, in combination with its focus on cultivating a positive work environment with an incredibly low employee turnover rate of less than 3%, and its mission of bettering employees and promoting from within is yet another testament to Scherer's dynamic leadership abilities.
Scherer, together with the company's executive team, have grown the firm from 10 employees in 2012 to 75 as of current, with 10 new hires in the past four months alone. Additionally, the executive team's forward-thinking innovations and implementations during the 2008-2011 recession enabled Gulf to overcome the economic downturn not just to get by—but to grow and come out on top. The company's return to its original headquarters and its current expansion has always been a part of Gulf Building's long term growth strategy. It also is a direct result of the firm's collective experience and ability to always stay ahead of market trends and find unique means of meeting the needs of its clients at all times, whatever they may be.
Gulf Building offers a full range of in-house construction services including general contracting, construction management, and interior design. Its portfolio includes new construction and renovation in the hotel, medical, office, educational, industrial and governmental sectors, in addition to its ever-growing repertoire of high-end, custom residential projects. Various notable contracts awarded and recent projects in the works include the South Florida Regional Transportation Authority (SFRTA) Operations Center and Pompano Tri-Rail Station Improvements, as well as the structural concrete for the new Jet Blue terminal planned at Fort Lauderdale/Hollywood International Airport. The company also was selected as the general contractor for the construction of Maritime Professional Training's 25,000-square-foot facility expansion currently underway at the private maritime training school's Fort Lauderdale campus.
Founded in 1991, Gulf Building LLC provides an innovative, integrated and hands-on approach to construction management and design, serving the greater South Florida market and beyond. Celebrating 25 successful years in business in 2015, the esteemed Fort Lauderdale-based builder maintains that improved timeliness is just as important as staying within budget, and that quality materials mean little without the expertise and skill to guarantee precision. To that end, Gulf Building holds itself to a higher standard than most other construction firms, not only in the work that it delivers, but also with regard to the employees in which the company invests. With a foundation based on integrity, quality and experience, Gulf Building's detail-oriented, forward-thinking approach to construction management and design consistently generates end results that are on time, within budget and exceed client expectations. Gulf Building's headquarters is located at 633 South Federal Highway, Suite 500 in Fort Lauderdale, FL. For more information, including a detailed overview of services and portfolio of past projects, visit http://www.gulfbuilding.com.