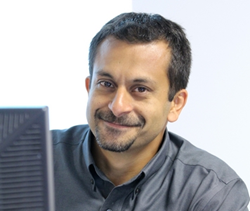 Plainfield, IL (PRWEB) April 28, 2015
VisualSP will be exhibiting at Microsoft Ignite, the sold-out conference taking place at McCormick Place in Chicago, IL from May 4-8, 2015. Microsoft Ignite is the largest and most comprehensive Microsoft technology event, promising to reveal new opportunities, spark innovation and showcase the future of technology.
The conference offers a variety of sessions where attendees may select from a huge breadth of material giving them the ability to tailor their own learning experience. Session topics include: Deployment and Implementation, Architecture and Development, Governance and Compliance, Operations and Management, Security and Access Management, Upgrade and Migration, and Usage and Adoption.
Asif Rehmani, Microsoft MVP, MCT and CEO of VisualSP is excited to be one of the speakers invited to speak at the conference. He will be delivering a session alongside Microsoft MVP and SharePoint adoption expert, Jennifer Mason on Wednesday, May 6 from 9:00 - 10:15 am on "Proven Ways to Build Robust, No-Code Solutions in Microsoft SharePoint"
In addition to the educational sessions at the conference, guests will not want to miss a trip through the Expo Hall. Here attendees will have the ability to connect with over 300+ key partners and Microsoft product groups. They can catch partner and community theater presentations in interactive lounges, experience the latest Windows devices in the Device Bar, and check out a captivating display of innovative and successful real-life implementations of Microsoft technology solutions in the Customer Showcase.
Rehmani's company, VisualSP will be exhibiting in the Expo Hall the duration of the conference. VisualSP can be found near the SharePoint area in booth #13. The company plans to educate attendees about their "just-in-time" training solutions created to help organizations with sustainable SharePoint adoption.
The conference also offers a number of networking events and parties to ensure collaboration and create an overall memorable experience.
For those not able to physically attend the conference, they are invited to watch the event live on the Ignite website.
About Asif Rehmani
Asif Rehmani is a SharePoint Server MVP, Microsoft Certified Trainer MCT, and Consultant. He has been a speaker on SharePoint topics at several conferences around the world including Microsoft's TechEd, SharePoint Conference, SPTechCon, SharePoint Connections, Best Practices Conference, SharePoint Saturdays, SharePoint Roadshows and more. He is co-author of the books "Professional SharePoint Designer 2007", "Beginning SharePoint Designer 2010" and "Real World SharePoint 2010" by Wrox publications.
@asifrehmani
About VisualSP (formerly SharePoint-Videos.com / Rehmani Consulting)
VisualSP focuses on empowering information workers, technical decision makers, administrators and developers in corporate environments with the SharePoint knowledge they need to be successful. The company, founded by Asif Rehmani is the creator of the VisualSP Help System which provides in-context support delivered to users through the Help tab in SharePoint ribbon. VisualSP has been helping drive SharePoint adoption in organizations by exposing Help content such as: video tutorials, screenshots and reference documents to the users when they need it. In addition, hundreds of video tutorials are available on the SharePoint-Videos.com site, which empower all SharePoint users to build powerful solutions and use the SharePoint platform effectively. VisualSP.com
@sharepointvideo